'Racetime' is a fun sequel
Category:
Blu-ray's and DVD's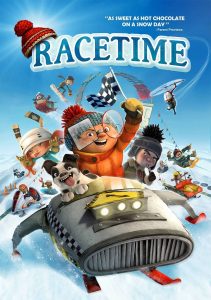 The 2016 film Snowtime wowed audiences with its characters and excitement. The cast of animated friends now returns for Racetime. While Snowtime centered on a big a snowball fight, Racetime focuses on a big sledding race. With songs by Cyndi Lauper, Simple Plan, Robby Johnson, and others, this is a fun and family-friendly film that is perfect for this time of year.
Frankie is a genius and creates the most inventive sleds. He has won the annual race five times in a row. But the new kid, Zac, intends on dethroning the little guy. Everyone in the barn has no doubt Frankie will win. Their only regret is that their beloved dog Cleo is not around any more. (She died in the first film.)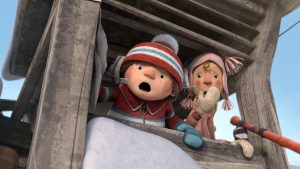 When it comes to the big day, the group is shocked when Zac wins and Frankie loses. They go into spy-mode and what they soon find out is that Zac cheated. So a rematch is scheduled.
In the meantime, while the genius and the evil genius are constructing their new sleds, Chuck falls in love with Zac's cousin Charlie and cannot believe she would cheat, but once he learns the truth, his heart is broken. And it takes Charlie a while to realize that cheating is not the right thing to do.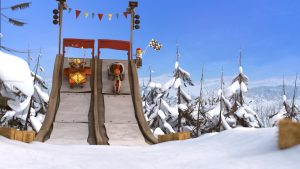 Frankie, twins Henry and George, Lucy, Daniel, Nicky, Piers, Sophie, Luke, Manolo, Jack, Chuck, Fran are united again in this adorable sequel. And with Charlie and Zac, along with a new puppy, the scene is set for an epic sled race through the village.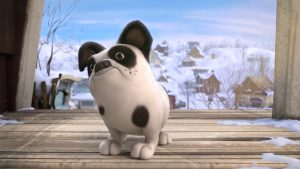 Check out the official website for more information about the characters and the movie.
The film is rated PG for some mild rude humor, however it is a nice family film with some valuable lessons.
Ready, set, snow! Racetime comes out for home entertainment on digital and on demand November 5, 2019.
About the Author
Francine Brokaw has been covering all aspects of the entertainment industry for over 25 years. She also writes about products and travel. She has been published in national and international newspapers and magazines as well as Internet websites. She has written her own book, Beyond the Red Carpet The World of Entertainment Journalists, from Sourced Media Books, is the entertainment correspondent for Good Day Orange County, and has her own TV show, Beyond the Red Carpet, on Village Television in Orange County. Follow her on Twitter.