'Princess Emmy' on DVD
Category:
Blu-ray's and DVD's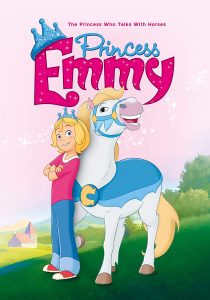 A long time ago, in the Kingdom of Kandis, Queen Karla saved the lives of countless horses. In return she was given the gift of being able to talk to horses. Queen Karla wrote everything down in a secret book, and as long as the book was not lost, the ability to talk to horses would continue with the royals. Princess Emmy is the current young princess in the kingdom and loves being with her horses. She carefully guards the book. Emmy loves the gift of talking to horses and would do anything to keep it.
When her evil and jealous cousin Gizana comes to stay with her, Emmy faces the ultimate test. She and Gizana are preparing for the Princess Day Ball however Emmy is also given an additional challenge from the book. She must prove herself worthy of the gift. But at the same time she is trying to figure out what the test is to prove her worthiness, Gizana is sabotaging her efforts as well as doing whatever she can to prove Emmy is not worthy of attending the Princess Day Ball.
Poor little Emmy is facing challenges at every turn. Only her best friend David is able to help her. He is the only outsider who is aware of Emmy's gift. But can the two of them keep Gizana from stealing the book and transferring the gift to herself? Once she discovers there really is a special power associated with the book, she wickedly devises a plan to steal it from Emmy and take the gift for herself.
This is a cute story that shows even enemies, no matter how much they might despise each other, can join forces and become friends. Princess Emmy is a fun little character who enjoys being with her horses and keeping the gift. She learns that there are some things more important than her wonderful gift, however. And that is her ultimate challenge.
Princess Emmy is available on DVD from Shout! Factory Kids beginning October 15, 2019.
About the Author
Francine Brokaw has been covering all aspects of the entertainment industry for over 25 years. She also writes about products and travel. She has been published in national and international newspapers and magazines as well as Internet websites. She has written her own book, Beyond the Red Carpet The World of Entertainment Journalists, from Sourced Media Books, is the entertainment correspondent for Good Day Orange County, and has her own TV show, Beyond the Red Carpet, on Village Television in Orange County. Follow her on Twitter.