'Prehysteria!' On Blu-ray/DVD Combo Pack
Category:
Blu-ray's and DVD's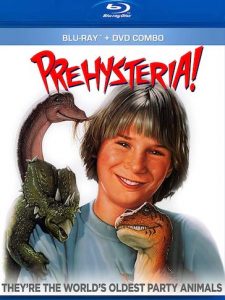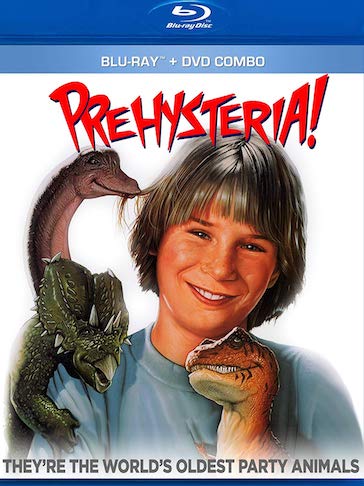 Move over Jurassic Park, Prehysteria! is coming. This 1993 movie had mixed reviews from critics however young viewers thoroughly enjoyed the film.
The story is about young Jerry Taylor (Austin O'Brien) who loves Elvis and his dog Ruby. His sister Monica (Samantha Mills) is a rebellious teenager, and their father Frank (Brett Cullen) is trying to keep everyone happy on their farm. It's been a couple years since their mother died, so the kids are used to having a single parent.
Rico Sarno runs the local museum and is ruthless when it comes to dealing with the public. On a trip to the rainforest he illegally brought back some preserved dinosaur eggs. When they mistakenly find themselves in the Taylor house, they end up hatching into five miniature dinosaurs. Jerry names the tiny T-Rex Elvis. Then Monica discovers what he is hiding and gives the rest of the babies the names Madonna, Paula, Jagger, and Hammer. What a group!
Sarno is eagerly hunting down his precious treasures but Frank, Jerry, and Monica do everything in their power to keep their group safe. Then Vicki (Colleen Morris), who is attracted to Frank and vice versa, comes into the mix and helps the family with their little dinos. She is an specialist from the museum but knows Sarno will not treat the creatures with kindness. After all, he stole them in the first place.
This little story continues with the good guys against the bad. In between are the cutest mini dinos you ever did see. Yes, the effects in this antiquated movie are not what we would expect today, but all in all, the little dinosaurs steal the show.
The movie garnered two sequels which all caught the attention of young viewers. After all, miniature dinosaurs are adorable and who wouldn't want one for a pet?
The film came out just before Jurassic Park hit the theaters. Dino-mania was sweeping the country. But the dinosaurs in Prehysteria! are not going to eat you.
Prehysteria! is rated PG.
About the Author
Francine Brokaw has been covering all aspects of the entertainment industry for over 25 years. She also writes about products and travel. She has been published in national and international newspapers and magazines as well as Internet websites. She has written her own book, Beyond the Red Carpet The World of Entertainment Journalists, from Sourced Media Books.
Follow her on Twitter