'Portrait in Black' on Blu-ray
Category:
Blu-ray's and DVD's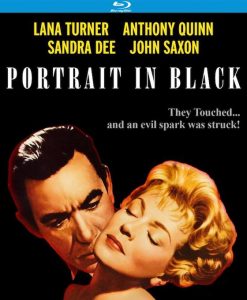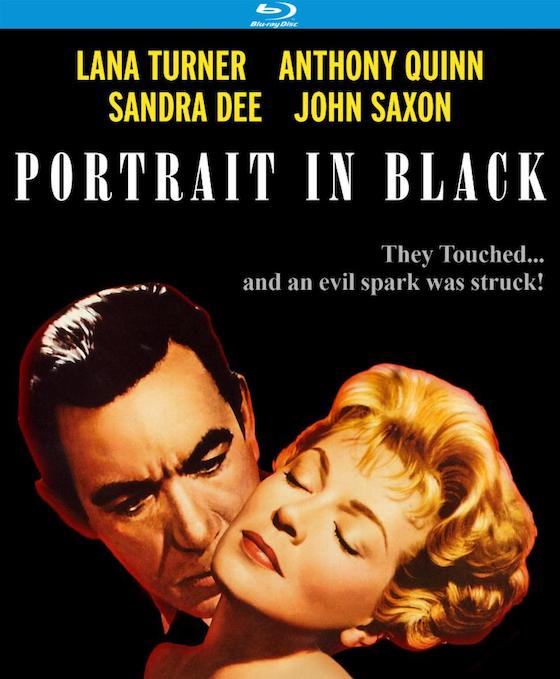 Lana Turner stars in this Hitchcockian-style story of a woman who will do anything to keep the man she loves and the man who would go to any lengths to keep her. Portrait in Black is a 1960 film with drama and suspense.
Sheila Cabot (Turner) is the second wife of shipping magnet Matthew Cabot (Lloyd Nolan) who is on his deathbed. The two are living apart in the same house and there is no love left between them. Besides the two are his daughter Cathy (Sandra Dee) and their son Peter (Dennis Kohler), as well as the chauffeur Cobb (Ray Walston) and the maid.
Sheila and her husband's doctor, David Riviera (Anthony Quinn) are lovers and are looking forward to the day when Matthew finally dies. But they cannot wait for nature to take its course. They devise a plan to murder Matthew, and when that is successful, things look rosy for the couple – until the day after the funeral when Sheila receives a letter congratulating her on the success of the murder. That sends the loving couple into a tailspin as they conceive ways to figure out who knows about them.
In the meantime, Cathy is planning on marrying her boyfriend Blake (John Saxon), who has an axe to grind with Matthew Cabot, thinking it was Cabot who led his father's career astray and led him to take his own life.  And to add to this interesting mix of characters is Howard Mason (Richard Basehart), Matthew's right hand man. He is in love with Sheila.
So as the drama of the lovers plays out and they try to figure out who sent the alarming letter, things get out of hand. It is only a matter of time for them to discover who it supposedly is and then they have to decide what to do about it. It seems murder is on the menu again. And how many people must they kill in order to keep their secret and start a life together?
This is an interesting, entertaining, and intense story and before you know it the 112 minutes are over. The wardrobe for Turner and Dee is outstanding, by the legendary designer Jean Louis. Together with the dramatic score, everything in the film is reminiscent of an Alfred Hitchcock mystery.
Portrait in Black is not rated. It is available on Blu-ray from KL Studio Classics.
About the Author
Francine Brokaw has been covering all aspects of the entertainment industry for over 25 years. She also writes about products and travel. She has been published in national and international newspapers and magazines as well as Internet websites. She has written her own book, Beyond the Red Carpet The World of Entertainment Journalists, from Sourced Media Books, is the entertainment correspondent for Good Day Orange County, and has her own TV show, Beyond the Red Carpet, on Village Television in Orange County.
Follow her on Twitter