Polka Dot Summit celebrates Minnie Mouse
Category:
Activities, Performances, & Events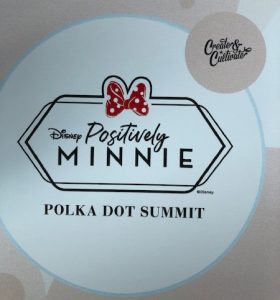 Minnie Mouse was celebrated January 25 and 26, 2020 in Burbank, California at the Polka Dot Summit. Create & Cultivate joined with Disney to put on this event to bring women together to feel empowered to live the legacy of Minnie Mouse.
"We are honored to join forces with Disney to launch the first-ever Polka Dot Summit," said Create & Cultivate CEO and Founder Jaclyn Johnson. "For decades, Minnie has encouraged everyone of all ages to be bold, to be fun, to express themselves through style, and to be classic to the core. Through workshops, discussions, and networking opportunities, our goal is to inspire the next generation of female leaders to do what it takes to make their dreams a reality, just like Minnie."
With food, drinks, hair and make-up stations, and photo ops with the big cheese (Minnie), women were treated to some pretty fun things to do. Besides this, there were panels and keynote speakers helping guests to understand that they should find their passions and make bold moves to bring their dreams to fruition. Many panel members spoke about how they turned their passions into careers, and how women need to build up each other. This last comment was met by cheers from the audience.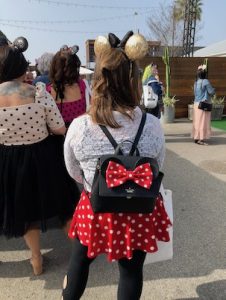 As a female icon, Minnie Mouse is an inspiration and a symbol of strength and influence. She is calm, positive, and stands for grace, charm, style, integrity, intelligence, love, authenticity, happiness, creativity, and a sense of community. She inspires everyone to be true to themselves with her bold personality and love of life. She is always positive and caring.
The summit was also a place where attendees were encouraged to socialize with each other and make new friends.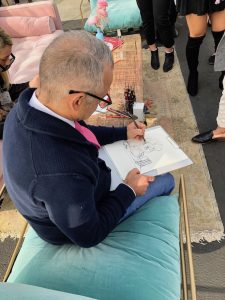 Disney artist Jeff Shelly made countless sketches of Minnie throughout the days and instructed guests how to draw the famous mouse.
All in all, Minnie Mouse is an inspiration for women around the world, and has been for almost a century. She was created in 1928. Minnie was named one of the top 100 successful and inspirational women by Create & Cultivate, and heads the list in the fashion category. Minnie has big shoes to fill, albeit they are high.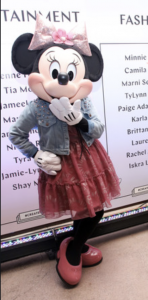 Personally I gave up high heels years ago, but this mouse continues to wear them and is a fashion icon as well as a symbol of strength and love. She was wearing her new denim outfit from the clothing brand PAIGE.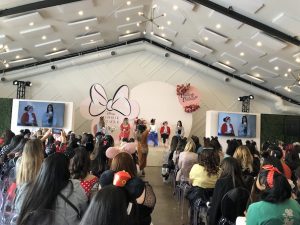 The Polka Dot Summit was filed with fun, food, fashion, information, inspiration, and even some goodies for the attendees.
About the Author
Francine Brokaw has been covering all aspects of the entertainment industry for over 25 years. She also writes about products and travel. She has been published in national and international newspapers and magazines as well as Internet websites. She has written her own book, Beyond the Red Carpet The World of Entertainment Journalists, from Sourced Media Books, is the entertainment correspondent for Good Day Orange County, and has her own TV show, Beyond the Red Carpet, on Village Television in Orange County. Follow her on Twitter.