'Poldark' returns for the last time on PBS' MASTERPIECE
Category:
Television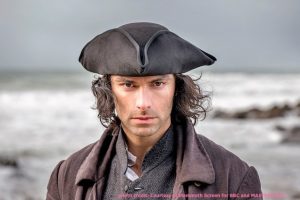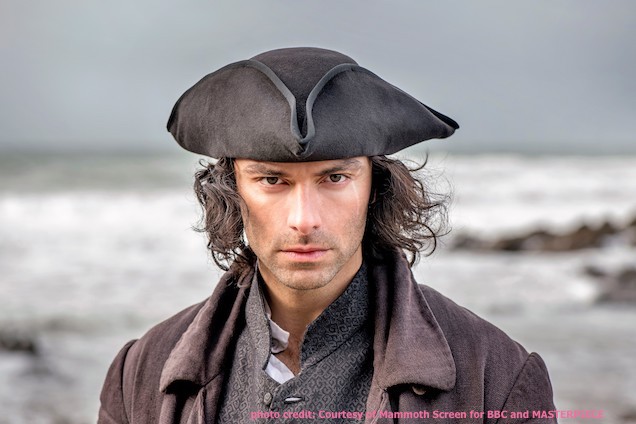 The fifth and final season of Poldark picks up only a few months after Season 4 ended and follows the lives of the Poldarks, Enyses, Warleggans, and Carnes. The eight-episode Season 5 focuses on the first two years of the 19th century between Winston Graham's Poldark Book 7 (The Angry Tide) and Book 8 (The Stranger From the Sea). The show creator Debbie Horsfield filled in the gap years not only with the well established Poldark characters but also with historical events and people of the time, namely over 20 new characters.
It is a new century, but instead of hope the past casts a long shadow over Cornwall. Only a few months after the tragic death of Elizabeth Warleggan (Heida Reed), Ross Poldark (Aidan Turner) still grieves the loss of his 'first and only love.' He's devastated and tormented with all-consuming guilt for Elizabeth's scheme gone wrong. Ross and his estranged wife, Demelza (Eleanor Tomlinson), decide to forgive and forget each other's sexual indiscretions (because they're even?) and move on with their 'head-down, mouth-shut' quiet life in Cornwall.
Ross, however, believes that the remedy for a sore heart is a mission. A welcome opportunity arrives in the shape of Kitty Despard (Kerri McLean) carrying an SOS message from her jailed husband, Colonel Ned Despard (Vincent Regan). Captain Poldark rushes to his former officer's rescue and once again challenges the establishment. Forget the quiet life! He's not about to sit still, feel the pain, and work through his emotions.
Demelza has no choice but to stay put and be in charge of Nampara, the mine, and her needy brothers. It's a matter of time before she gets into all kinds of troubles; she's a wild card and has always played with fire. Demelza is too busy fixing Ross to own up to her gigantic mistakes, get with the program, and change her tunes. And stop telling people how you had found a way to privilege. Have you no shame? I can guarantee you Verity Blamey (Ruby Bentall), Ross' favorite cousin, would not proudly tell people how she had caught her Mr. Right. That's so common! I guess you can't help it considering your upbringing and competitive streak! Action speaks louder than words. Ross & Demelza are like two bulls staring at each other, waiting for the other one to give in.
Recruited for Ross' mission are the most sensible, sensitive, yet fiercely loyal Dr. Dwight Enys (Luke Norris) and his privileged and entitled wife, Caroline (Gabriella Wilde). Dr. Enys' devotion to his noble profession is always the point of contention and the frivolous busybody is jealous of all the women who get Dr. Enys' attention and compassion. I can't believe she would jeopardize his career by blackmailing George Warleggan (Jack Farthing) with illegitimately obtained medical records. Thank God Dr. Enys doesn't have to suffer the consequences any more, but I wouldn't be mad if a spin-off series featuring Dr. Enys and his research on causes and treatments of insanity were produced. He turned out to be my true hero after all!
The grieving George is haunted by the ghost of Elizabeth for a while, but eventually has to be exorcised, tortured, and purged by a quack his henchman Cary Warleggan (Pip Torrens) brings in. George, of course, comes back with a vengeance and adds another offense to his long list of evildoing by associating with Ralph Hanson (Peter Sullivan), an unsavory mahogany trader whose business is built on the backs of enslaved people. Even the knighthood cannot make up for his inferiority complex and self-loathing. Having Valentine Warleggan (Woody Norman) around rubs Sir George the wrong way; he is a living proof and constant reminder of undying love between Elizabeth and Ross. Valentine is a ticking time bomb in a cute little Mini-Ross package that could go off at any moment. Tick, tick, tick!
Instead of jam-packing Season 5 with so many new characters we barely care about, I wish Horsfield focused on the Cornwall couples who do not see eye to eye any longer. The disappointed, disillusioned, and disenchanted couples certainly could use couples therapy to figure out how they've contaminated their relationships! I know it's not that kind of a show, but the final season was uninspiring to say the least. No pains faced head-on! No lessons learned! No phoenix rose from the ashes! What a bummer!
Poldark returns Sunday, September 29, 2019 for the last time on PBS' MASTERPIECE.
About the Author
Meg Mimura is a TV critic who actually watches shows zealously in search of thought-provoking and paradigm shifting human drama worth our precious time. She is a member of Television Critics Association. Follow her on Twitter.