'Please Believe Me' on DVD
Category:
Blu-ray's and DVD's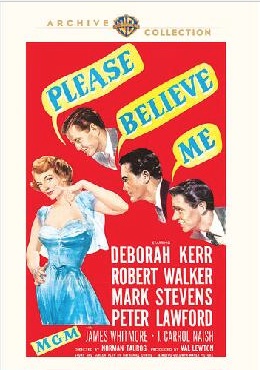 From the Warner Bros. Archive Collection comes a madcap story starring Deborah Kerr, Robert Walker, Mark Stevens, and Peter Lawford. This 1950 black and white movie came three years before Kerr's classic movie From Here to Eternity, and six years before her endearing performance in the musical The King and I, and seven years before the film for which she is most favorably remembered, An Affair to Remember. Please Believe Me is an old-fashioned film with a lovable cast.
Alison Kirbe (Kerr) is a Londoner who has been a pen pal to an American soldier she met during the war. This man embellishes everything in his writings, and she believes his Texas ranch is filled with cattle and rolling hills. In actuality it is a desert property not worth anything. But this is something she doesn't know.
When this man dies, he leaves his "estate" to her. Thinking she is worth millions, Alison sets off for America to claim her inheritance. On the ship to America she meets a rich playboy (Lawford), his attorney who is trying to keep him out of trouble (Stevens), and a gambler who wants to seduce her for her money (Walker). Everyone, including Alison, believes she is wealthy.
But along the way all the plans get snarled and as schemes are revealed, relationships get more complicated. Once they arrive in America everything gets even more out of control. Lawford's character doesn't mind that Alison might be interested in him only for his money. His attorney, however, is insistent on getting to the bottom of this woman's real motives, and the gambler is sure he can get her to marry him so he can finally pay off his debts.
Is this a corny story? Yes. Is this outdated? Yes. But there's something endearing about the characters that keeps viewers watching.
Please Believe Me is part of the Warner Archive Collection and can be ordered from their site at www.wbshop.com.