'Plaza Suite' from Warner Archive Collection
Category:
Blu-ray's and DVD's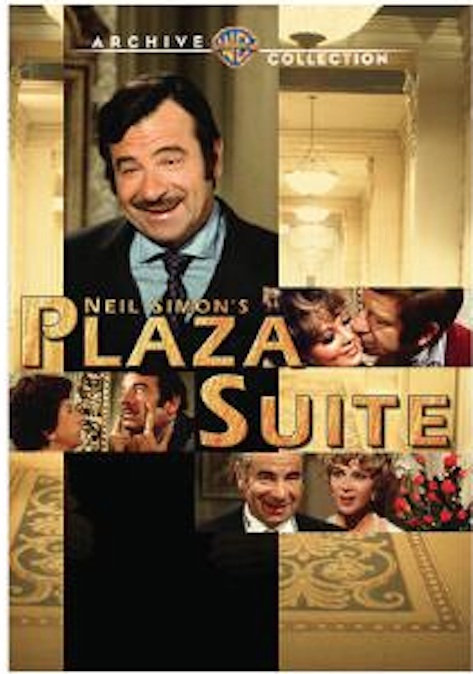 Plaza Suite is another winner from playwright/screenwriter Neil Simon. This 1971 film stars Walter Matthau in three vignettes each taking place in Suite 719 at New York's Plaza Hotel.
The first story has Matthau as Sam, a married man in the midst of a mid-life crisis. His wife Karen (Maureen Stapleton) has big plans for their twenty-fourth – or is it their twenty-third? – wedding anniversary. She has taken great pains to make the night memorable. And memorable it becomes. Sam is overly concerned about his looks and his mortality. While Karen does everything in her power to alleviate his concerns, he pays no attention to her. In the end viewers see how vanity and the fact that everyone ages takes its toll on Sam and ultimately their marriage.
The second story has Matthau as Jesse Kiplinger, a famous and vain Hollywood producer who comes to New York on business with ulterior motives. This conceited womanizer has plans to seduce an old friend from New Jersey. Muriel Tate (Barbara Harris) agrees to meet her old flame at the Plaza for a drink. Muriel is happily married with three children, yet the celebrity that surrounds Jesse intrigues her. Does he know Frank Sinatra? As Jesse and Muriel drink (mostly Muriel), he tries all his moves to get her into the bedroom. Fame does come into play and is the ultimate aphrodisiac for Muriel.
The final story is the most hilarious of the three. Matthau plays Roy Hubley whose daughter is getting married that afternoon at the Plaza. Roy is concerned with every nickel and dime he is doling out for the wedding. And when his wife Norma (Lee Grant) calls the ballroom demanding he return to their suite ASAP, Roy wonders what is going on. After all the money he put out for this wedding, nothing better stop it. But Norma informs him that their daughter Mimsey has locked herself in the bathroom and won't come out. As Norma and Roy try their best to coax her out and even break down the door, everything goes wrong.
Matthau shows off his great comic abilities in this film. Matthau combined with the wit of Neil Simon makes Plaza Suite a fun little film.
Plaza Suite is rated PG-13 for mature thematic elements. It is part of the Warner Archive Collection and can be ordered from their website.
About the Author
Francine Brokaw has been covering all aspects of the entertainment business for 20 years. She also writes about technology and has been a travel writer for the past 12 years. She has been published in national and international newspapers and magazines as well as internet websites. She has written her own book, Beyond the Red Carpet The World of Entertainment Journalists, from Sourced Media Books.
Follow her on Twitter