Pixar's 'Elemental' get a wet introduction at Disneyland Resort
Category:
Activities, Performances, & Events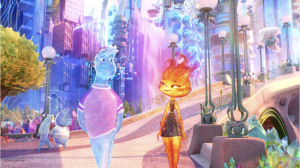 To introduce guests to the new Pixar animated film Elemental, a new limited-time water short titled "Elemental Connection" will be showing prior to "World of Color – ONE" in Disney California Adventure.
For a limited time beginning June 2, 2023, this two-minute pre-show will bring the land, air, water and fire residents of Element City to life with brilliant projections across vast water screens. Just like fire element Ember and water element Wade, viewers will learn that stepping out of their element will help them discover who they really are.
The evening water shows are always enjoyable and with this new pre-show short, guests will get a special treat.