'Pixar Short Films Collection 3'
Category:
Blu-ray's and DVD's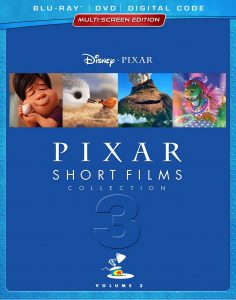 Eleven Pixar shorts along with two mini-movies combine in this Blu-ray combo pack. Plus there is a bonus about the making of Bao and a look at the Pixar animators creating caricatures of their colleagues. Each short is introduced by a filmmaker.
Included in the disc are:
Bao (It's a cute little film about a mom who is suffering from empty nest syndrome. Then, magically, one of her dumplings comes to life and she once again has a little guy to care for. She tries everything to keep him close to home, but this little dumpling soon starts growing and eventually leaves the nest. No one stays young forever.)
Lou (A cute story about toys in a lost and found box and a playground bully.)
Piper (A fun little story of a young sandpiper who is afraid of the ocean. This little bird must learn to tame her fear in order to get food. )
Sanjay's Super Team (Sanjay is a little boy who loves his super heroes. When his father makes him meditate in front of the Hindu gods, the little boy dreams of them as super heroes. This is a colorful little short.)
Riley's First Date? (This short focuses on Riley and her parents when a boy comes to their house to pick her up. Is this an actual date?)
Lava (It is really a fun little story set to music about a volcano that is lonely and wants someone to "lava." Occurring over millions of years, the volcano is about to give up when a new volcano bursts from the ocean. To say this is inventive doesn't do it justice. It is sweet and adorable)
The Radiator Springs 500 ½ (Lightning McQueen and Mater must and the entire town of Radiator Springs are celebrating their Founder's Day. Some hot rods roll into town and challenge McQueen and the race is on.)
Party Central (Join Mike and Sully at Monsters University as they party in the Oozma Kappa fraternity.)
The Blue Umbrella (On one rainy day in the big city, two umbrellas meet and fall in love.)
Miss Fritter's Racing Skoool (This is like an infomercial with the characters from Cars 3. Miss Fritter is advertising her school as Cruz and McQueen watch the television.)
Marine Life Interviews (Some of the characters from Finding Dorydiscuss the blue fish who – surprise – doesn't remember any of them. Hmm.)
The Legend of Mor'du (Discover the history of the characters of Brave.)
Partyaurus Rex (Toy Story's greatest dinosaur is a party animal.)
About the Author
Francine Brokaw has been covering all aspects of the entertainment industry for over 25 years. She also writes about products and travel. She has been published in national and international newspapers and magazines as well as Internet websites. She has written her own book, Beyond the Red Carpet The World of Entertainment Journalists, from Sourced Media Books.
Follow her on Twitter