'Pinocchio' – Walt Disney Signature Collection Blu-ray
Category:
Blu-ray's and DVD's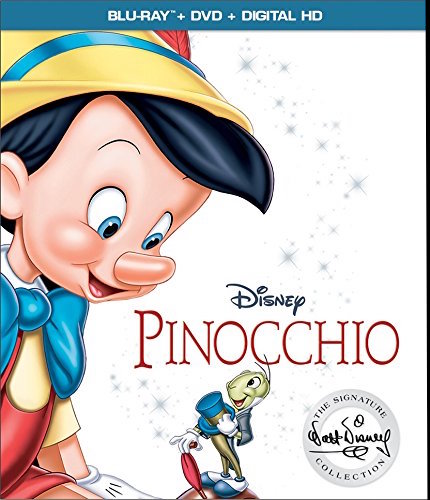 Pinocchio is a musically charged movie that won two Academy Awards: Best Original Music Score and Best Original Song ("When You Wish Upon a Star") and became an instant classic when it debuted in 1940. This is a timeless tale of love.
Pinocchio is the story of love. It's a beautifully animated film for the entire family. is a movie about a lonely wood-carver named Geppetto who carves a marionette he names Pinocchio. Geppetto lives with his beloved cat (Figaro) and goldfish (Cleo). After completing Pinocchio, he wishes on a star. That wish is for Pinocchio to be a real boy. When The Blue Fairy appears that night she grants his wish. Pinocchio will become a real boy when he proves himself brave, truthful, and unselfish. Jiminy Cricket is assigned to be his conscience and teach him right from wrong.
Pinocchio has several periling experiences. First he is sold by a conman – con-fox – named Honest John to Stromboli, a gypsy that then kidnaps the little wooden boy for his own gain. Luckily he is saved by the Blue Fairy and given one more chance to prove himself. Then he is again manipulated by Honest John and sold into slavery on Pleasure Island, a place of both fun and peril for little boys. This time Jiminy is able to save Pinocchio however they soon discover Geppetto, Figaro, and Cleo have been swallowed by the monster whale Monstro. The two immediately go in search of his family and it is then when Pinocchio finally learns to put others before himself.
This new Signature Collection Blu-ray/DVD includes several new bonus features. First is the beautifully designed "Disney View" option to see the film in its original aspect ratio. In this view the sides of the screen are filled with art that seamlessly changes to go along with the scenes. This makes a wonderful viewing experience.
There is a bonus feature about the making of the new music video of "When You Wish Upon a Star" featuring three young singers (Alex G, Tanner Patrick and JR Aquino ) that have reimagined the classic song for today's young viewers. The music video is also included.
Other additional features take viewers into the history of the film as well as the improvements Walt Disney made to the world of animation at that time. He used the profits from his first animated feature film, Snow White, to update the world of animation.
There are also bonus features from previous Pinocchio releases, as well as the new restored 1927 short with Oswald the Lucky Rabbit.
Check out some clips from the Signature Collection:
Pinocchio – Walt's Process
Pinocchio – Creating Pleasure Island
Pinocchio has been a beloved movie for over 75 years. Whether you're viewing it for the umpteenth time or the first, it is truly an enchanting and endearing story.
About the Author
Francine Brokaw has been covering all aspects of the entertainment industry for over 20 years. She also writes about products and travel. She has been published in national and international newspapers and magazines as well as Internet websites. She has written her own book, Beyond the Red Carpet The World of Entertainment Journalists, from Sourced Media Books.
Follow her on Twitter