'Pillowland' by Laurie Berkner – Book Review
Category:
Books and Music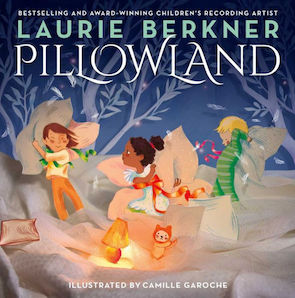 Pillowland is a fun bedtime book for parents to read to their children at night, and for kids (4-8) to read to/with their parents. It's filled with imaginative illustrations by Camille Garoche and takes kids on a wonderful journey to a land made of pillows. Author Laurie Berkner is a celebrated children's songwriter and now her beloved song "Pillowland" can be experienced in this delightful book.
Who wouldn't want to visit a land where all is soft and fluffy and people wear their PJs all the time? It sounds heavenly to me.
This magical kingdom is a peaceful land where everything is made of pillows, even the dinnerware for the pillow bread and pillow jam. Together with all the pillow trains and pillow cars, this place is the perfect locale to visit before going to dreamland. And, it just might find its way into dreams.
Kids will definitely enjoy experiencing the song through this book. It's a nice way to end the day. Imagine leaving this world of loud noises and daily troubles and heading to a soft, magical world before drifting off to sleep. That's what this book is for and will be a favorite bedtime book for preschoolers. It's a nighttime lullaby with sweet illustrations.
Hardcover: 32 pages
Simon & Schuster Books for Young Readers (November 7, 2017)
ISBN-10: 1481464671
ISBN-13: 978-1481464673
About the Reviewer
Francine Brokaw writes about products, travel, and entertainment. She has been published in national and international newspapers and magazines as well as Internet websites. She has written her own book, Beyond the Red Carpet The World of Entertainment Journalists, from Sourced Media Books.
Follow her on Twitter