Peter Pan Live! Now on DVD
Category:
Blu-ray's and DVD's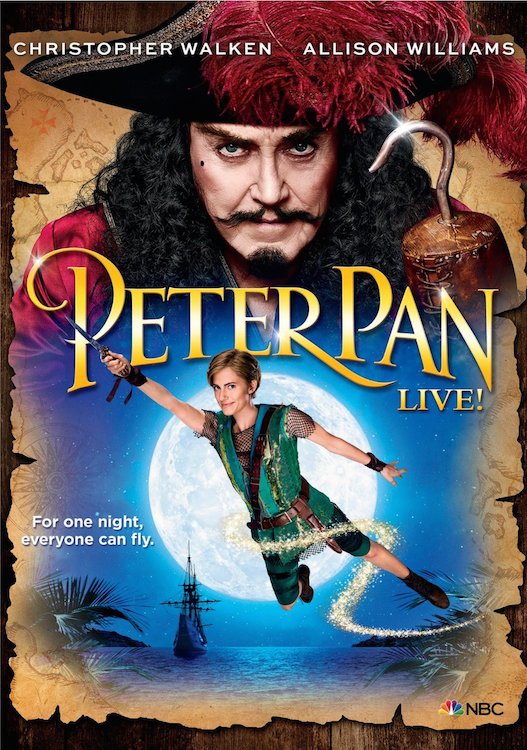 It's becoming more common for stage plays to be turned into TV shows. Last year we had The Sound of Music (2013) Before that there were versions of Cinderella (1965), South Pacific (2001), Joseph and the Amazing Technicolor Dreamcoat (2000) and Into the Woods (1999), Camelot (1982), and Gypsy (1993). In 2014 we had Peter Pan. These live performances give viewers a different perspective on the stories than the motion pictures we regularly watch. In Peter Pan Live! Allison Williams plays Peter, the boy who never grew up.
We are familiar with the Disney animated version of Peter Pan. That show shot a little fairy named Tinker Bell to instant stardom. I grew up with the stage performance with Mary Martin playing Peter Pan, which I remember fondly. Mary Martin originated the role on Broadway in 1954, which was later filmed for television audiences. I remember playing the soundtrack album over and over again. It was a different take on the story from the animated film. To me that was interesting. Then there was Sandy Duncan. Last year I happened to catch the stage play in Hollywood with Olympic gymnast Cathy Rigby starring as Peter.
Now, all these years later, Peter Pan Live! is available for a whole new generation. Allison Williams is delightful as Peter and Christopher Walken plays Captain Hook.
So, what makes the live performance different from the animated film? Quite simply, it's the way the story is told and the songs that run throughout the performance. More specifically, the musical numbers "I Gotta Crow," "I'm Flying," "I Won't Grow Up," and "Never Never Land," among others. These songs will have viewers tapping their toes and singing along with the show.
The story of Peter Pan, Wendy and her brothers, Tinker Bell, The Lost Boys, Captain Hook and the Pirates, Tiger Lily, and the Darling Family with Nana the dog, comes to life in this show. Minnie Driver plays the adult Wendy as well as narrates the story.
The bonus feature on this DVD is a documentary titled "The Making of Peter pan Live!" that gives viewers a back stage look at the production and preparations for the show including rehearsals.
Peter Pan Live! is a show for the entire family. And just keep an eye out for Captain Hook. Walken is delightful in this role.
About the Author
Francine Brokaw has been covering all aspects of the entertainment business for 20 years. She also writes about technology and has been a travel writer for the past 12 years. She has been published in national and international newspapers and magazines as well as internet websites. She has written her own book, Beyond the Red Carpet The World of Entertainment Journalists, from Sourced Media Books.
Follow her on Twitter
Like her on Facebook