'Peanuts Holiday Collection Deluxe Edition' on 4K
Category:
Blu-ray's and DVD's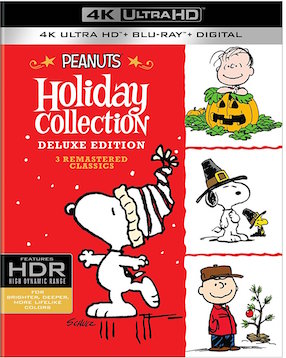 Join Charlie Brown and the entire Peanuts gang for some fun holiday classics. This one collection includes stories perfect for Halloween, Thanksgiving, and Christmas with the timeless stories featuring the loveable Peanuts kids. Peanuts Holiday Collection Deluxe Edition in available now on 4K Ultra HD with a Blu-ray disc and Digital copy.
First, we all know about The Great Pumpkin. Don't we? Well, Linus is convinced The Great Pumpkin will come on Halloween night. It's the Great Pumpkin, Charlie Brown is a fun Halloween story that has been entertaining families since 1966. It was nominated for 3 Prime Time Emmys and has been an annual TV viewing tradition in homes around the country. With everyone out Trick or Treating, little Linus is waiting in the pumpkin patch for the arrival of The Great Pumpkin. This little guy is so enthusiastic he'll melt your heart. This is a disc that will keep everyone entertained throughout October.
Next comes Thanksgiving. November is filled with preparations for the holiday and A Charlie Brown Thanksgiving is one way to get ready for the holiday. In 1973 this adorable show was first broadcast on TV and ended up winning an Emmy. Thanksgiving with the Peanuts gang is happier than ever when Peppermint Patty joins the group for a festive celebration.
December brings Christmas and A Charlie Brown Christmas, which was produced in 1965 and has stood the test of time. Now, when people see a scraggly little tree, they often refer to it as a "Charlie Brown tree." That's because Good Ol' Charlie Brown picked out the mangiest little tree to give it a good home. He doesn't want to be taken in by the materialism of the holidays. And in the end he proves that the Christmas spirit and the season isn't dependent on the big commercialism that has taken over the world.
Besides these three main holiday shows, the collection includes plenty more fun with Charlie Brown, Lucy, Linus, Sally, Snoopy, Peppermint Patty, Violet, Schroeder, Patty, Frieda, Pig Pen, Woodstock, Franklin, and the rest of the gang.
It's Magic, Charlie Brown (1981) centers on Snoopy as he dedicated himself to his magic tricks. But will he go too far?
Charlie Brown's All-Stars (1966) has the little fellow in a difficult situation. He loves his baseball team, but to get new uniforms he must tell Snoopy, Lucy, Patty, Violet and Frieda they are off the team, which is something he doesn't want to do. When the team hears that good ol' Charlie Brown turned down the uniforms, they are incensed. Then Linus tells them that Charlie Brown was only thinking about them. He didn't want to split up his team. The whole gang gets together to show Charlie Brown they understand and do care about him, and make him his own uniform…out of Linus' blanket!
The Mayflower Voyagers (1988) is has the gang reliving the past as they set sail on the Mayflower for a new adventure in the New World, and a very difficult winter.
Play It Again, Charlie Brown (1971) has a love-struck Lucy getting a gig for Schroeder at the PTA concert. The piano-playing lad is excited to play his Beethoven melodies, but only rock music is allowed at the concert. How will Schroeder react to this news?
It's Christmastime Again, Charlie Brown (1992) is filled with more holiday fun for the gang as they prepare for the annual Christmas pageant.
It's Flashbeagle, Charlie Brown includes the fun dancing steps of the 80s. This show was first broadcast in 1984 and reflects the time.
Besides these nine timeless shows, there are a few featurettes included in the collection. While all of these shows were produced a long time ago, they are still as relevant and entertaining today. And now that they are on 4K, the graphics are brighter and better.
The Peanuts gang has many hours of fun in store for the whole family in this collection. And even though they are having fun watching the shows, kids won't realize are learning lessons about life. Grab the popcorn, make some hot chocolate, and pop in these shows for some fun family viewing.
About the Author
Francine Brokaw has been covering all aspects of the entertainment industry for over 20 years. She also writes about products and travel. She has been published in national and international newspapers and magazines as well as Internet websites. She has written her own book, Beyond the Red Carpet The World of Entertainment Journalists, from Sourced Media Books.
Follow her on Twitter