'Peanuts by Schulz: School Days' on DVD
Category:
Blu-ray's and DVD's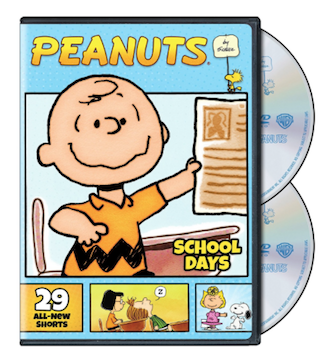 The newest compilation of classic Peanuts antics includes plenty of Peanutty fun with the entire gang. There are dozens of little vignettes showing off the adorable little tykes in all their glory.
"This new collection of Peanuts short cartoons revolves around the classic school theme and will appeal to viewers of all ages," said Mary Ellen Tomas, Vice President Family & Animation Marketing. "This beautiful new series is a celebration of Charles Schulz's beloved original comic strip. It's comprised of animated vignettes derived directly from his newspaper strips."
The two disc set is packed full of situations that show off the wit, wisdom, and sheer entertainment of the whole Peanuts gang.
Linus is smitten with his teacher and when she retires he is devastated. Frieda is introduced to Charlie Brown and the rest of the kids and proceeds to annoy them with her constant chatter and her pride in her "naturally curly hair." She also pesters them to hold her cat when she goes to the store or the library. That lazy cat doesn't like to get his feet dirty! And then she tries to get Snoopy to hunt rabbits.
Lucy is fed up with Linus' blanket and locks it in the closet for two weeks. Can the little fellow go that long without his security blanket without cracking up?
And when their baby brother Rerun is born, Linus and Lucy find his constant crying a nuisance. This poor little kid is happiest when he's with Snoopy. When his mother takes him on her bike, Rerun is less than thrilled with the dangers that face them while riding around. And when it's time to go to kindergarten, Rerun decides he doesn't want to go, however Lucy insists he get on the bus and go to school. She is always a bossy – but caring – big sister.
Those are just a few of the many situations from this delightful gang of kids. They are always good for a laugh.
Parents don't have to worry about their kids when these discs are being played. They are filled with plenty of wholesome and delightful antics and adults will enjoy watching them as well. After all, we have all grown up with Charlie Brown, Lucy, Linus, Snoopy, and the entire Peanuts gang. Watching these vignettes from the strips brings back memories.
The DVDs contain 19 episodes, each with several vignettes peppered with short activities with Snoopy and Woodstock. So, who's your favorite member of the gang? I've always been partial to Sally. Although I do enjoy Linus. And Schroeder is always good for some fun. I cannot forget Pig Pen. And Charlie Brown is so sweet. Lucy, Peppermint Patty, and everyone else have entertained me for decades. It's hard to choose a favorite. They're all adorable.
About the Author
Francine Brokaw has been covering all aspects of the entertainment industry for over 20 years. She also writes about products and travel. She has been published in national and international newspapers and magazines as well as Internet websites. She has written her own book, Beyond the Red Carpet The World of Entertainment Journalists, from Sourced Media Books.
Follow her on Twitter