'Peanuts by Schultz: Snoopy Tales' on DVD
Category:
Blu-ray's and DVD's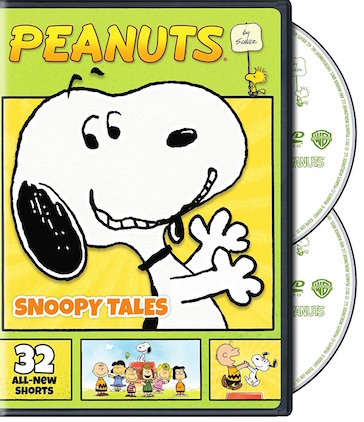 We've all grown up with the Peanuts gang. This new DVD collection features vignettes with Good Ol' Charlie Brown, Snoopy, Linus, Lucy, Sally, Woodstock and the whole gang. "Consumers today may not remember that Peanuts originated as a comic strip. Peanuts by Schulz: Snoopy Tales has combined two wonderful mediums, print comic strips and cutting-edge animation to create a really unique Peanuts experience," said Mary Ellen Thomas, Vice President Family & Animation Marketing at WB. She added, Peanuts by Schulz: Snoopy Tales takes us back to the origins of Charles Schulz's remarkable work. No Peanuts fan will want to miss this new release."
There are over 3 hours of fun in this 2-disc collection. While everybody's favorite beagle Snoopy is front and center, the rest of the gang are also part of this great set of vignettes with their trademark humor and heart.
Whether Snoopy is trying to get Linus' beloved blanket or catching snowflakes on his tongue, this little guy is full of mischief, love, and sweetness. True to her personality, Lucy is disgusted when Snoopy kisses her on the lips, and Woodstock and Snoopy often share his doghouse often with frustration, and Linus tries to outwit the little fellow when it comes to keeping his blanket, but through all the scenes, these kids (and dog and bird) never fail to entertain and put smiles on our faces.
Besides the antic with Snoopy, there are scenes with Sally worried about writing to Santa Clause, Lucy at her psychiatrist "office" for 5-cent evaluations, and plenty more fun with the group. Which one is your favorite? Do you love the innocence and gullibility of Charlie Brown, the steadfastness of Lucy, the sweetness and intellect of Linus, the curiosity and suspiciousness of Sally, the wackiness of Woodstock, or the fun and imagination of Snoopy?
These vignettes are designed to put a smile on your face and bring back the emotions you felt when you first encountered the comic strip. Do you remember the strip?
While the gang has come a long way since they first caught the public's attention, they are still adorable and entertaining. The feature film (The Peanuts Movie) which came out in 2015, proves the endurance of these loveable characters. For over 50 years they have been part of pop culture and the scenarios depicted in this new DVD set preserves the original aspects of the series.
Take a trip back down memory lane with the entire family with 32 fun-filled animated episodes.
About the Author
Francine Brokaw has been covering all aspects of the entertainment industry for over 20 years. She also writes about products and travel. She has been published in national and international newspapers and magazines as well as Internet websites. She has written her own book, Beyond the Red Carpet The World of Entertainment Journalists, from Sourced Media Books.
Follow her on Twitter