'Peanuts by Schultz: Go Team Go!' On DVD
Category:
Blu-ray's and DVD's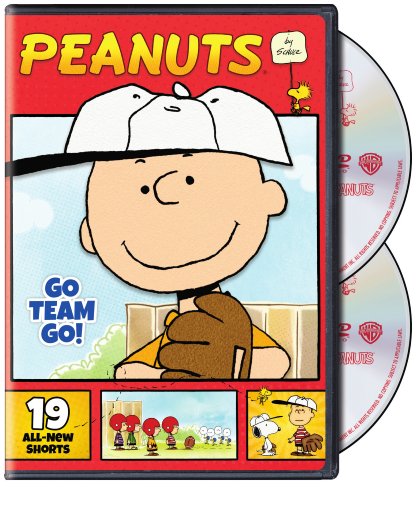 We all know the Peanuts gang. Good Ol' Charlie Brown, Sally, Lucy, Linus, Peppermint Patty, the little red haired girl, Schroeder, Violet, Pigpen, and of course Snoopy have been beloved characters for over 50 years. The cable TV series on Boomerang and Cartoon Network, Peanuts, animates the comic strip. This new collection of 19 episodes, Peanuts by Schultz: Go Team, Go!, captures all the fun of the gang in mostly sports-themed and outside stories.
Little kids and adults will delight in the antics of the Peanuts gang. Whether the vignettes revolve around Charlie Brown and his frustration with kites, the gang's baseball team, Snoopy playing Joe Cool, Snoopy becoming an attorney to represent a little rabbit, Frieda flaunting her naturally curly hair, Lucy and Charlie Brown discussing being a big sister and big brother, or other things, this group of kids never fails to entertain viewers of all ages.
"Over the years, Charles Schulz's beloved Peanuts characters have been brought to life in so many different forms.  These cartoons are inspired by the original Peanuts newspaper comic strips and give us an opportunity to enjoy these special characters in their most authentic form," said Mary Ellen Thomas, Vice President Family & Animation Marketing for Warner Bros. She added, "Peanuts by Schulz: Go Team Go! is a title that no Peanuts fan will want to miss. We're delighted to offer another release of this charming series to fans."
Over two hours of entertainment on the two discs in this new collection provide plenty of Peanuts fun, and with this gang you know there are no situations that little kids can't see. While the set is not rated, it is suitable for all ages. And because they are all done in short vignettes, this is a great DVD to keep in the car to entertain the little ones when you're out and about.
About the Author
Francine Brokaw has been covering all aspects of the entertainment industry for over 20 years. She also writes about products and travel. She has been published in national and international newspapers and magazines as well as Internet websites. She has written her own book, Beyond the Red Carpet The World of Entertainment Journalists, from Sourced Media Books.
Follow her on Twitter