Paul Newman wins 'The Prize' on Blu-ray
Category:
Blu-ray's and DVD's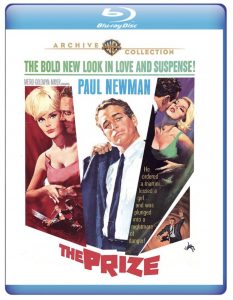 The Prize is a 1963 film starring Paul Newman and a collection of other well-known actors. This is a Hitchcockian-style story written for the screen by the same writer of North by Northwest, and has some of the same suspense throughout the film.
When the Nobel Prize winners come to Stockholm for the ceremonies, things get a little out of hand for writer Andrew Craig (Newman), who is an alcoholic, womanizing American author only interested in the money and not the prestige. He finds himself in the middle of a Cold War situation in which his life and the lives of others are at stake.
Remember, this film was made at the height of the Cold War. The Cuban Missile Crisis had occurred the year before and the Berlin Wall had gone up. The Communists and the West were waging covert operations, and at this Pulitzer Prize gathering, that is especially the case.
Dr. Max Stratman (Edward G. Robinson) is there to collect his prize for physics. He is being accompanied by his niece Emily (Diane Baker). Stratman is an American and proud of his escape from the Communists, but they want him back. He is kidnapped and replaced by a look-alike imposter while he is being smuggled behind the Iron Curtain.
Craig is assigned an official, Inger Andersson (Elke Sommer), to assist him on his trip to Stockholm and hopefully keep him out of trouble. Craig, being his usual self, makes a play for her.
When his imagination and curiosity take over, Craig detects a difference between the Stratman that is taking part in the festivities and the one he met on his arrival. He puts two and two together and decides this one is an imposter. But who will believe him?
In the meantime, there are personal stories being played out by the two doctors who are sharing the prize for medicine: Dr. Farelli (Sergio Fantoni) from Italy and Dr. Garrett (Kevin McCarthy) from America. And, a married couple (Micheline Presle and Gerard Oury) are also there to accept their prize however their marriage difficulties adds to their stories, as well as Craig's.
It might sound confusing however it's not. While the various winners are playing out their personal situations, it is Craig who is at the center of it all while he tries to find out what is actually going on with Dr. Stratman. And when his life is put at risk, he is certain his hunch is correct. Knowing and proving are two very different things, especially when the Communists have people strategically placed to help in the cover up.
Ernest Lehman wrote the screenplay from the best-selling book by Irving Wallace. There are several aspects of this film that will remind viewers of the 1959 Cary Grant movie, including Leo G. Carroll who appears in both The Prize and North by Northwest.
While it is long and at times a bit drawn out, this movie is interesting and filled with suspense as well as some humor. Paul Newman is a hero everyone loves.
The Prize on Blu-ray is from the Warner Archive collection and can be purchased from their website or online retailers where DVDs and Blu-rays are sold.
About the Author
Francine Brokaw has been covering all aspects of the entertainment industry for over 25 years. She also writes about products and travel. She has been published in national and international newspapers and magazines as well as Internet websites. She has written her own book, Beyond the Red Carpet The World of Entertainment Journalists, from Sourced Media Books, is the entertainment correspondent for Good Day Orange County, and has her own TV show, Beyond the Red Carpet, on Village Television in Orange County.
Follow her on Twitter