Paul Newman and Geraldine Page long for the 'Sweet Bird of Youth'
Category:
Blu-ray's and DVD's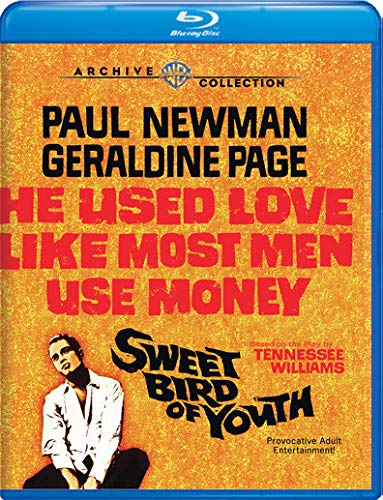 Tennessee Williams' play is brought to the screen in the 1962 adaptation starring Paul Newman and Geraldine Page. Sweet Bird of Youth definitely bears the Williams mark, bringing complex and flawed characters to viewers in a dark and deeply dramatic story.
Newman is Chance Wayne, a wanna-be actor who had little luck in New York and Los Angeles. He has been relying on his good looks, charm, and sex appeal as a gigolo. His latest plan involves attaching himself to an aging actress named Alexandra Del Lago (Page) who thinks her career is over. She is an alcoholic and drug addict and uses sex to calm herself, and Wayne is always there to help her in any and every way. In exchange he wants her help rising to stardom.
He brings her back to his hometown while he tries to reconnect with his long-lost love, Heavenly Finley (Shirley Knight). Heavenly's father is Thomas "Boss" Finley (Ed Begley), a ruthless and vengeful man who rules the town with an iron fist with anything he can do to keep his power. That also involves violence. Finley never thought Wayne was good enough for his daughter and every time the young man came back to town to take Heavenly away, Finely managed to get the Wayne away from his family and the town.
The story is about both the aging actress and the man who only wants success in Hollywood and his girlfriend beside him. Wayne is unaware of a deep secret being held by Heavenly and her family.  And Del Lago is avoiding reading about her latest movie thinking it was a bomb, she feels her career is over, until she is finally told she and the film are a great success.
The evilness doled out by Boss Finley goes far beyond his dislike for Wayne. His mistress (Madeleine Sherwood) is also a victim of his vengeance.
Thomas Finley, Jr. (Rip Torn) follows his father's example and is as evil and disruptive while trying to keep the family name pure. Ultimately they both fail.
Two bonus features are included with this Warner Archive Collection Blu-ray. One is the screen test of Page and Torn, who married after the film was completed. The other is a look at Tennessee Williams, his characters, and the characters and actors in the movie. Williams and Newman worked together in 1958 on the film "Cat on a Hot Tin Roof."
Ed Begley took home the Academy Award for his performance as best actor in a supporting role and Geraldine Page took home the Golden Glove for best actress in a drama.
Sweet Bird of Youth is available on Blu-ray from Warner Archive and can be ordered at their website or other online retailers. It is not rated but deals with drugs, alcohol, sex, and violence.
About the Author
Francine Brokaw has been covering all aspects of the entertainment industry for over 25 years. She also writes about products and travel. She has been published in national and international newspapers and magazines as well as Internet websites. She has written her own book, Beyond the Red Carpet The World of Entertainment Journalists, from Sourced Media Books, is the entertainment correspondent for Good Day Orange County, and has her own TV show, Beyond the Red Carpet, on Village Television in Orange County. Follow her on Twitter.