Patrick Stewart Stars in 'Match' Now on DVD
Category:
Blu-ray's and DVD's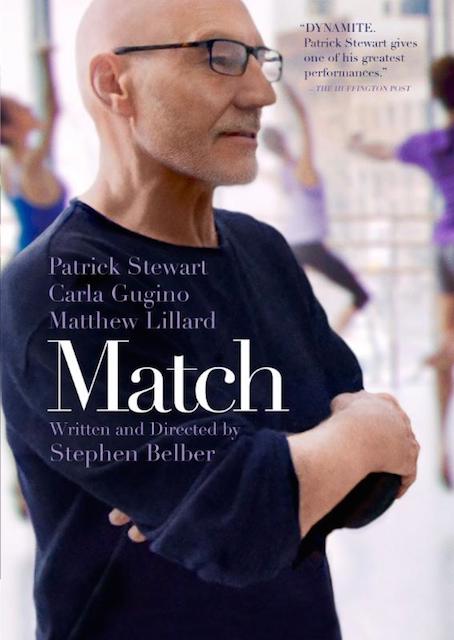 Patrick Stewart is fabulous in his newest film "Match" which is now available on DVD. The movie is based on a Tony-nominated play.
Stewart plays Tobi, a Manhattan ballet instructor at Julliard, who is eccentric and totally loveable. His greatest joy in life is to inspire young ballet dancers, after having had an exceptional career as a dancer himself.
When a young couple from Seattle visits Tobi, it changes his usual lone existence. Lisa and Mike Davis (Carla Gugino and Matthew Lillard) have sought out the once famous dancer. Lisa is supposedly writing her dissertation on the dance community in the 1960s and has requested an interview with Tobi, who regales them with all the excitement and escapades of his past. Then the true reason for their visit is revealed causing turbulence for all three characters. Tobi is disappointed and frustrated while Mike becomes completely unhinged. It is Lisa who holds everything together.
The bond between Tobi and Lisa grows when Mike bolts out of the apartment. It is then when the pasts of the three characters comes to light, as well as the compassion Tobi has for life itself and for this young woman.
"Life is never meant to be lived in a rut," is the guidance Tobi imparts to Lisa, who has just revealed her dissatisfaction with the state of her life and her marriage. It is evident Tobi has lived his life to the fullest, and still does. He greets everything with gusto and a bit of whimsy.
Stewart's performance is not only gripping, but his play with humor adds immeasurably to the adoration viewers will feel for this aging dancer. The 24 hours played out in the film is poignant and memorable, thanks to Stewart's talent as both a dramatic and comedic actor. He makes this character endearing.
The ulterior motive for Lisa and Mike's visit threatens to derail everyone's life. It is Tobi who manages to make the adjustment with heartfelt emotions.
Patrick Stewart is currently filming the new TV series "Blunt Talk" for the Starz network. In that show the actor plays another senior who vacillates between humor and drama at the drop of a dime.
"Match" is rated R for language, sexual dialogue and some drug use.
About the Author
Francine Brokaw has been covering all aspects of the entertainment business for 20 years. She also writes about technology and has been a travel writer for the past 12 years. She has been published in national and international newspapers and magazines as well as internet websites. She has written her own book, Beyond the Red Carpet The World of Entertainment Journalists, from Sourced Media Books.
Follow her on Twitter
Like her on Facebook