'Pat Boone and Family: Springtime & Easter Specials' on DVD
Category:
Blu-ray's and DVD's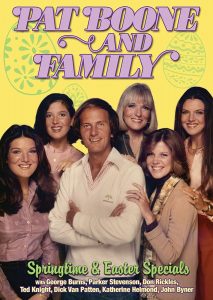 In the late 1970s Pat Boone and his family made several seasonal TV specials. These were filled with music and some – rather corny – skits, but they are fun to watch, nevertheless. This entire family has talent in every pore. And with the recent death of Shirley Boone, this is a great tribute to her love of family and her own entertaining skills.
Pat, Shirley, Cherry, Lindy, Debby, and Laury all joined together to put on some fun entertainment that definitely fits with their wholesome image. There are plenty of references to milk and Boone drinks several glasses in these shows. But the musical aspect is what makes this a fun DVD to watch.
There are cameos from The Unknown Comic, George Burns, Don Rickles, and Dick Van Patten, Parker Stevenson, Ted Knight, Katherine Helmond, and John Byner are guests on the shows. The family aspect of the Boones is highlighted, and the four daughters are a true delight to watch as they dance and sing, and of course, kid playfully. And Lindy's young son Ryan appears with his grandpa who sings to him "You and Me Against the World."
Debby joins with Stevenson in a cute little love song, the four daughters do a disco number, they also sing about their family tree. Well, what could be their family tree. It's fun and lighthearted and what today's sophisticated viewers will call old-fashioned variety. But that aside, this is a sweet Boone-filled disc with a lot of music and the love of the family.
The entire family roller skates around various landmarks in Los Angeles singing to "Ease on Down the Road." Debby has some solos as does Pat. And Pat and Shirley join together for a fun version of "Flattery."
So, even though this is dated and, as mentioned earlier, a bit corny, the music is timeless and the feeling is fun. If you yearn for some nostalgia or just want to see what viewers were watching in the 1970s, check out this disc.
About the Author
Francine Brokaw has been covering all aspects of the entertainment industry for over 25 years. She also writes about products and travel. She has been published in national and international newspapers and magazines as well as Internet websites. She has written her own book, Beyond the Red Carpet The World of Entertainment Journalists, from Sourced Media Books, is the entertainment correspondent for Good Day Orange County, and has her own TV show, Beyond the Red Carpet, on Village Television in Orange County.
Follow her on Twitter