Paper Planes – Movie Review
Category:
Movies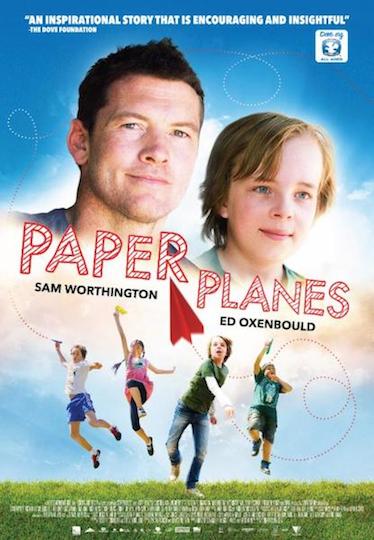 Paper Planes is a movie that quickly draws audiences into the story. Soon everyone is rooting for the star of the film, Dylan Webber (played by Ed Oxenbould). This kid is a sweetheart.
Dylan is twelve and lives with his father (Sam Worthington) in a small town in Western Australia. His mother died a few months ago and since then his father has been grieving to the point of neglecting his son. This man cannot work. He cannot do anything except rest on the couch. His grief is overwhelming for him.
But Dylan is moving on with his life. He still misses his mother but he knows life goes on. At least it does for him. His dad is still mired in pain and unhappiness.
One day Dylan's class gets involved in making paper planes and they have a contest. Dylan's plane flies farther than anyone expected. He enters the regional contest and then the nationals. Could this little boy actually make it to the World Junior Paper Plane Championships in Japan?
Dylan studies everything that flies in hopes of folding the best paper plane that will outfly all the others. While he is on his quest for flying glory, Dylan makes several friends, including an unlikely ally. Somehow this good-hearted boy manages to make a friend out of the class bully.
While everyone else is competing to be winners and have bragging rights, Dylan only hopes that if he wins his father will want to spend more time with him. It is heartbreaking to see how this young boy lifts himself up and forges on all by himself. His father is too grief-stricken to take much interest in his son leaving Dylan to take care of himself and his own dreams.
Needless to say, this is an inspiring and "uplifting" story that families can enjoy together. The movie has garnered nominations for several international film awards and won an award as the Jerusalem Film Festival. It is the top- grossing family film in Australian history. It is inspiring, imaginative, and will have everyone's hopes "soaring" for this kind-hearted young boy.
Paper Planes will be released in limited theaters on September 4 and On Demand and Digital Download in North America September 8, 2015. Gather your family, grab some popcorn, and enjoy this story of life and love.
About the Author
Francine Brokaw has been covering all aspects of the entertainment business for 20 years. She also writes about technology and has been a travel writer for the past 12 years. She has been published in national and international newspapers and magazines as well as internet websites. She has written her own book, Beyond the Red Carpet The World of Entertainment Journalists, from Sourced Media Books.
Follow her on Twitter