Pandora: The World of Avatar wows guests
Category:
Travel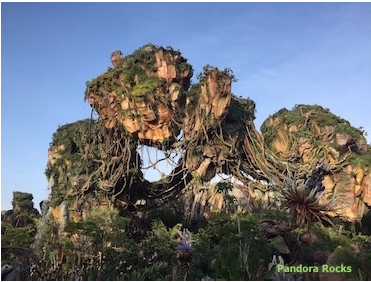 It took six years to build but Pandora is finally here on earth. Located at the Animal Kingdom in Walt Disney World, Pandora is a place like no other. Once you step over the bridge you are instantly transported into the movie Avatar and the wonderful world of Pandora. "We are taking our guests on a journey to this world in an experience that's as realistic and immersive as possible," said Joe Rhode, Walt Disney Imagineering portfolio creative executive. And that's even an understatement. Guests will be asking themselves, "How did they do it?" How did Disney create a world that is 4.4 light years from earth?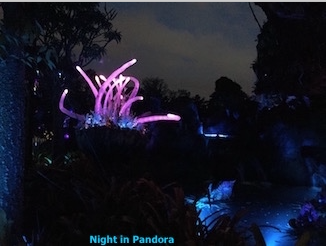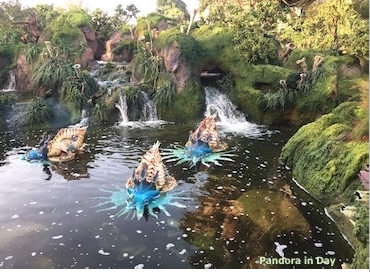 Pandora is a different experience by day than it is by night. In the day it is a lush, green, and colorful landscape and at night it is even more incredible with the bioluminescent landscape awing guests. The plants glow, as do the pathways. It's an experience that is out of this world (no pun intended). Only the Imagineers at Disney could create this amazing land.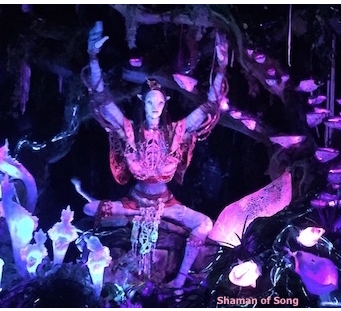 For the most part, Pandora is an escape into the movie, but there are also two very interesting and different activities to experience. The Na'vi River Journey is a beautiful slow-moving boat ride down the river and through the land. Here the bioluminescence is on display day and night. Once you board your boat you'll peacefully ride down the river through the valley. There are creatures all around and interesting plants as well. Near the end of the ride you'll be greeted by the Shaman of Song, an amazing animatronic character that has taken the world of animatronics to a new level. And, when leaving the ride you will still have his song running through your mind. It's a soulful and calming tune.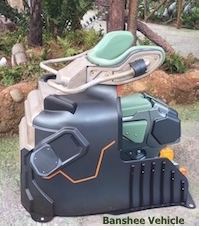 The second activity in Pandora is the Avatar Flight of Passage, which is not for the faint of heart. The pre-ride queue is an experience in itself, taking guests through the lab and exhibiting plenty of interesting Na'vi items. Then you'll get matched up with your own Avatar and learn how to ride your banshee. Once you straddle the apparatus (similar to sitting on a motorcycle) your flight above the land begins. You'll soar up and down through the valleys and the beautiful world of Pandora. For those who do not want to take the flight, you can still experience everything right up to the time of getting on the banshee. Just inform the cast member you do not want to ride and you can wait it out in the next room while the others in your party take flight. Those taking this incredible flight through the land will experience an amazing VR journey while at the same time actually feeling the banshee breathe and move. It's amazing.
There is plenty to learn about the Na'vi history and culture and Pandora while wandering through the landscape with its floating mountains and waterfalls. The plant life is unique to Pandora with its blue Bladder Polyps that glow at night and other unique flora. I'm told the Bladder Polyps on Pandora taste like pickles. Humans have to take their word for it.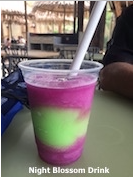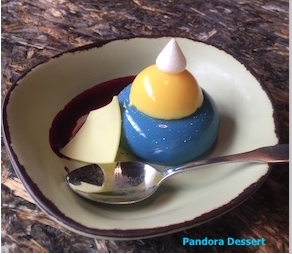 Eating in this picturesque land is also an interesting experience, The Satu'li Canteen is set in a Quonset hut that was abandoned by the invaders. Wholesome and nourishing food is available here where guests dine in the Na'vi designed interior. Next to the Canteen is the Pongu Pongu where you can take advantage of some interesting libations, including the Night Blossom frozen concoction that blends apple and pear topped with passion fruit boba. If you prefer a little alcohol in your drink, try the Mo'ara Margarita.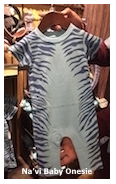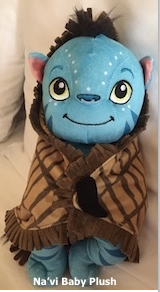 And let's not forget merchandising. Even the Na'vi have plenty of items guests will want to bring home to remember their trip to Pandora. They have some fun and interesting items, including a plush Na'vi baby and a onesie to dress your own baby in a Na'vi outfit.
The goal of this land is to encourage careful attention to nature. This world of Pandora takes guests to Avatar a generation after the movie ends. Peace is everywhere. There is no conflict. After leaving guests will have a newfound appreciation of nature here on earth.
"Whether it's planting a single seed, going out and getting involved in environmental issues in their home communities, or getting involved in animal care – whatever it is, they will be inspired to have a call to action in their own lives," explains Avatar producer Jon Landau.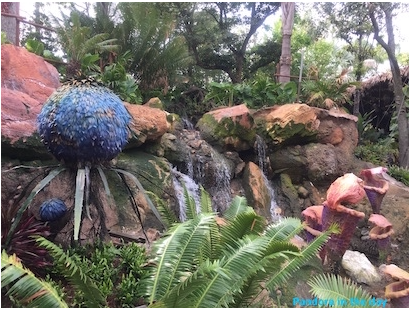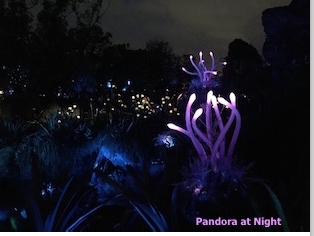 Pandora – The World of Avatar is a spiritual experience for the entire family. It is filled with the Na'vi spirit of harmony. To experience this magnificent land you must go to Walt Disney World's Animal Kingdom. Here you will be infused with the wonder and joy of Pandora and the culture of the Na'vi.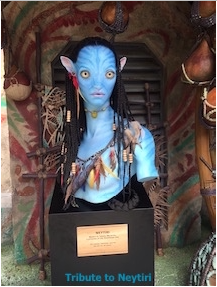 About the Author
Francine Brokaw has been covering all aspects of travel and entertainment for over 20 years. She has been published in national and international newspapers and magazines as well as Internet websites. She has written her own book, Beyond the Red Carpet The World of Entertainment Journalists, from Sourced Media Books.
Follow her on Twitter