'Paddington 2' – as sweet as marmalade and a pure delight
Category:
Blu-ray's and DVD's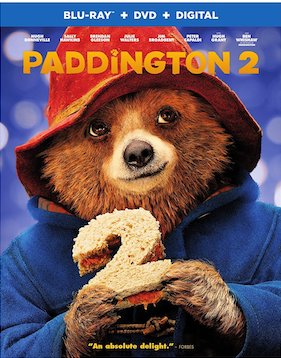 That adorable and loving little bear is back for an all-new adventure. Paddington 2 is a sweet story featuring the kind-hearted bear and his "human" family, the Browns. The cast from the original 2014 film reunites to continue the story of Paddington's life in London.
With Aunt Lucy's (voiced by Imelda Staunton) birthday coming up, little Paddington wants to send the perfect gift. He sets his sights on an old Pop-Up book about London. After all, Aunt Lucy always wanted to visit this fabulous city and the book will show her the sites of the town. To afford this book Paddington takes on several odd jobs, with plenty of humor. But just when he's able to afford to buy the book, it is stolen. Not one to sit by while a theft is taking place, let alone the theft of something he has worked so hard for, Paddington takes off after the thief. But the poor little fellow is arrested because the police think he is the thief. How is this fluffy little guy going to survive in the rough and tumble world of prison?
True to form, Paddington sees the good in everything. While the Browns are trying to find the real thief, Paddington learns to settle in to life in prison. But not only does he keep his kindness and good manners, he teaches them to his fellow inmates. Yes, this furry felon has such a kind heart that it rubs off on everyone.
And when he accidentally turns all of the prison garb pink – a red sock in a load of white and black uniforms isn't such a good thing to do – the entire prison population is now wearing pink jumpsuits. And what a lovely shade of pink. As Paddington points out, it adds a bit of color to the drab place.
And when he teaches the "chef" how to make marmalade, it cheers up the crowd. Soon the lunchroom is turned into a tearoom, and the rough inmates are turned into a bunch of well-mannered men. All thanks to the kindness of this one little bear.
The theme in the film is that seeing the good in people is more important than seeing the bad. And looking on the bright side is much better than dwelling on the dark side of a situation.
Sally Hawkins (Mary Brown), Hugh Bonneville (Henry Brown), Samuel Joslin (Jonathan Brown), Madeleine Harris (Judy Brown), Jim Broadbent (Mr. Gruber), and Judy Walters (Mrs. Bird) all return for this delightful sequel, with the addition of Hugh Grant as Phoenix Buchanan, an eccentric has-been actor.
Bonus features in this Blu-ray Combo pack include a look at how the filmmakers worked with stand-ins for Paddington while the human actors were filming their parts. As they say, it was much easier to work with humans than imagine where the little bear would be. After all, reacting to another actor is half of acting whereas reacting to a blank spot is, well, even more acting.
Another bonus looks at the magic of the Pop-Up book that was important to the little bear. These were popular a long time ago, and as the filmmakers discovered, filming the scenes where Paddington imagines taking Aunt Lucy through the pages of the book were not easy at all.
Other bonuses look at the kindness of Paddington and his outlook on life. After watching this film, hopefully his sweetness will rub off on all the viewers. There is a look at the cast and how they all relate to the little fellow, a "how-to" make a marmalade sandwich featurette, an adorable music video with Hugh Grant and the inmates performing a high-stepping music and dance number, and some other bonuses that add to the fun of this Combo pack.
Paddington 2 is rated PG for some action and mild rude humor. It's a cute little movie with a memorable character and his heartfelt outlook on life. Marmalade sandwich anyone?
About the Author
Francine Brokaw has been covering all aspects of the entertainment industry for over 20 years. She also writes about products and travel. She has been published in national and international newspapers and magazines as well as Internet websites. She has written her own book, Beyond the Red Carpet The World of Entertainment Journalists, from Sourced Media Books.
Follow her on Twitter