'Our Brand is Crisis' on Blu-ray
Category:
Blu-ray's and DVD's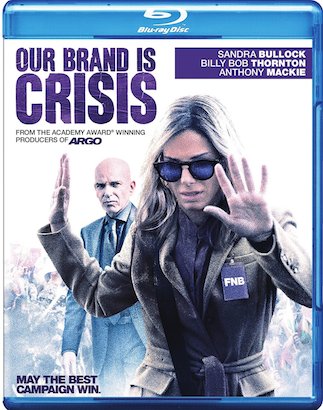 Sandra Bullock is amazing in this tense political story about campaigns, campaigning, dirty tricks, and hope. How can they all go together? Just leave it up to the professionals to run a campaign that utilizes all of those items. Our Brand is Crisis is an interesting story of how strings are pulled and how candidates are used and manipulated.
Jane Bodine (Bullock) was a professional campaign strategist who has been in retirement, living a simple existence in the mountains, and trying to stay sane. Her last job put her over the edge. She is brilliant at strategy, but has a difficult time with the consequences. When she is recruited to go to Bolivia to work on the presidential campaign, she reluctantly takes the job. As a matter of fact, she a responsibility to take it because her nemesis, Pat Candy (Billy Bob Thornton), the man who put her over the edge, is the strategist for the opposition and she wants to get even.
When she arrives in Bolivia, she is overtaken by the altitude and the mess in which the campaign seems to be. She needs to find a message for her candidate that will resonate with the people. She decides it is "crisis." That is how she is going to brand the campaign. She sets out to show that the country is in crisis and the only person with the courage and experience to take it on is her candidate Castillo (Joaquim de Almeida).
While she dives head-on into this campaign, Candy goads her at every turn. He is trying to get under her skin and throw her off her game. But she gets the upper hand.
As she makes this a personal campaign between her and Candy, the candidates continue to play the game and are basically puppets to the two professional strategists. The campaigns are interesting to watch as the two strategists play out their games using the candidates to make their case. These strategists don't care for whom they work. They only care about winning. They have to be tough and tough skinned because the outcome might be unsettling in the long run.
That is what happens to tough-minded Jane. She ultimately realizes that there is more to life than winning a campaign. There are issues and lives at stake. How can she live with herself if she continues on the same path?
The bonus feature looks at Sandra Bullock taking on this intense role. She was lucky in that George Clooney couldn't undertake it at the time and she thought it was a good role for a woman. Clooney was a producer on the film, and the role went to Bullock after some rewriting.
Our Brand is Crisis is rated R for language including some sexual references. It is also available on DVD.
About the Author
Francine Brokaw has been covering all aspects of the entertainment industry for 20 years. She also writes about products and travel. She has been published in national and international newspapers and magazines as well as Internet websites. She has written her own book, Beyond the Red Carpet The World of Entertainment Journalists, from Sourced Media Books.
Follow her on Twitter