'Operation Crossbow' on Blu-ray
Category:
Blu-ray's and DVD's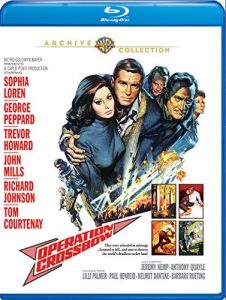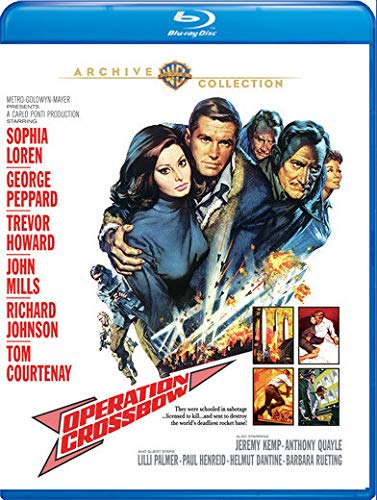 George Peppard stars in Operation Crossbow, a film based on actual events. This 1965 movie has an amazing cast: Sophia Loren, Trevor Howard, John Mills, Anthony Quayle, Paul Henreid, Lilli Palmer, and more.
The story follows Lt. John Curtis (Peppard) as he is recruited to infiltrate the Nazi rocket facility. He must pose as a scientist and speak fluent German. Not only that, he must also memorize his character's history. He steps into the shoes of Erik Van Ostamgen who is dead. No one is aware of his death including his wife Nora (Loren). When she surprisingly shows up, things get a little dicey for him, but the mission is important so, as they say, the show must go on.
While the Nazi's are bombing London with their unmanned V1 flying bombs, the Allies fear the new V2 will be even more damaging and the newest rocket in production will not only be able to reach Europe, but also New York. The Allies must stop this rocket from being produced. That mission is now up to Curtis.
The movie is based on actual events and does highlight some of the real people who took part in this dangerous endeavor. While the world might think the invasion of Normandy was the big event to end the war, in fact it was the demolition of the rocket.
The bonus feature on this Blu-ray looks at the actual facts that led up to Operation Crossbow. The American scientist, Goddard, actually began the research and his failures and accomplishments landed in the hands of the Nazis. It is amazing to see how the beginning of the rocket era came to be, and how the brave agents infiltrated the rocket facility. If they had failed the world would be a different place.
Operation Crossbow is rated PG-13 for some war violence. It is an interesting story and now available on Blu-ray from the Warner Archive Collection. It can be purchased at the Warner Archive website or online retailers where DVDs and Blu-rays are sold.
About the Author
Francine Brokaw has been covering all aspects of the entertainment industry for over 25 years. She also writes about products and travel. She has been published in national and international newspapers and magazines as well as Internet websites. She has written her own book, Beyond the Red Carpet The World of Entertainment Journalists, from Sourced Media Books, is the entertainment correspondent for Good Day Orange County, and has her own TV show, Beyond the Red Carpet, on Village Television in Orange County. Follow her on Twitter.