'Only Angels Have Wings' on DVD
Category:
Blu-ray's and DVD's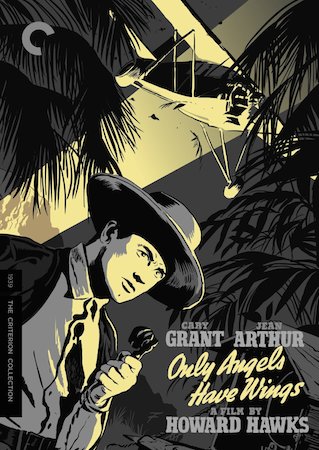 Only Angels Have Wings is a 1939 drama starring Cary Grant and Jean Arthur. It's about the growing aviation profession, with Grant starring as Geoff Carter, a pilot who is trying to run an airline in a remote South American village.
Arthur plays Bonnie, a woman who falls for Carter even though he rebuffs her and insists he will not get involved with anyone. Carter is a tough man. When a pilot dies in a crash before their eyes, he and the others move on from their grief in the matter of minutes. After all, they cannot afford to wallow. They have a job to do and they know they might be the one to crash next. That's the life they signed on for. But Bonnie is not one of them, at least in the beginning. She is taken aback by their attitudes and especially Carter's.
Although she is supposed to return to the boat on which she came, Bonnie decides to stay in this remote wilderness. The village has some kind people and she wants to get to know Carter better, even though he insists she shouldn't stay. Yes, there is an attraction between them and Bonnie thinks she can change his mind about getting close to a woman, but he doesn't feel the same way. He is adamant that there is no room in his life for a serious relationship. After all, his job is risky and he lost one woman because of the dangers.
Rita Hayworth costars as Judy, Carter's former girlfriend who left him because he was a pilot. Interestingly enough, she ended up marrying a pilot (Richard Barthelmess) and he becomes one of Carter's pilots, which brings Judy back into the company of her former lover. This new turn of events makes Bonnie jealous, but things get even more complicated when injuries start plaguing the group, putting the remaining pilots in even more danger.
Director Howard Hawks loved making movies about pilots. Besides this one, Hawks' aviation films include The Dawn Patrol, Calling Zero, and Air Force. During World War I Hawks joined the Army Air Corps. He enjoyed aviation and racing planes and cars. He was a risk-taker, something that was front and center in many of his films, including Only Angels Have Wings.
Bonus features on The Criterion Collection DVD include audio selections of an interview with Hawks by Peter Bogdanovich in which Hawks talks about the film and the cast, and casting Hayworth in the movie. There is also an interview with film critic David Thompson who discusses the movie and Hawks' history. A featurette about Hawks and his aviation films show just how invested the director was in the aviation industry and his love of planes.
Only Angels Have Wings was nominated for two Academy Awards – for cinematography and special effects. It's a deeply dramatic film and often slow-moving. It is a look at the commitment and sacrifices of the pilots who helped make aviation an everyday part of our lives. The movie from The Criterion Collection is also available on Blu-ray.
About the Author
Francine Brokaw has been covering all aspects of the entertainment industry for 20 years. She also writes about products and travel. She has been published in national and international newspapers and magazines as well as Internet websites. She has written her own book, Beyond the Red Carpet The World of Entertainment Journalists, from Sourced Media Books.
Follow her on Twitter