'Oklahoma Crude' on Blu-ray from Twilight Time
Category:
Blu-ray's and DVD's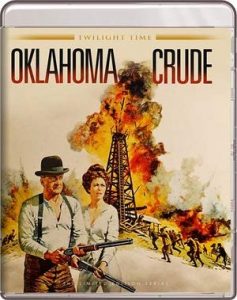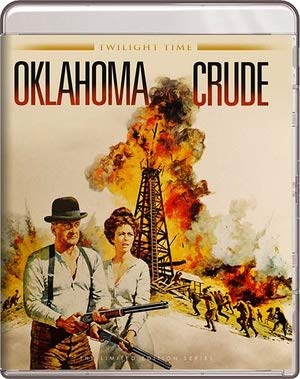 Faye Dunaway, John Mills, and George C. Scott star in this 1973 movie set in 1913 Oklahoma. Oklahoma Crude is a story about the ruthlessness and greed by the oil companies at the beginning of the big oil discovery in the state.
Dunaway is Lena, a strong-willed woman who owns a tiny plot of land with a small house and a single oil derrick. She is a tough cookie and is determined to fight off the big companies who are also determined to obtain her derrick, either lawfully or unlawfully.
Lena's estranged father Cleon (Mills) comes to town to help his daughter, even though she refutes any advancement from him. Nevertheless, he hires a drifter named Mase (Scott) who, along with her one employee, work to keep the derrick working with the hopes of hitting oil.
Jack Palance is Hellman, a greedy employee of one of the biggest oil companies. He has no morals and does not think beating and killing people to get what he wants is a bad thing. On the contrary, he relishes in the fact that people are being hurt and even killed. That includes Lena, who is beaten for not signing an agreement with the company. But she keeps coming back for more! She won't give up or give in!
Soon it is Lena, Cleon, and Mase fighting the big oil companies alone, with all the firepower they can get their hands on. But is Lena's well going to come in? Will they actually hit oil?
The music is by Henry Mancini and the film was directed by notable director Stanley Kramer, who also produced the movie.  To say the stars are A-list is an understatement.
This film is about the strength and determination of one woman who takes a stand against the big companies. She only has one well, but they want it – at any cost.
Oklahoma Crude is rated PG. There is violence throughout.
About the Author
Francine Brokaw has been covering all aspects of the entertainment industry for over 25 years. She also writes about products and travel. She has been published in national and international newspapers and magazines as well as Internet websites. She has written her own book, Beyond the Red Carpet The World of Entertainment Journalists, from Sourced Media Books, is the entertainment correspondent for Good Day Orange County, and has her own TV show, Beyond the Red Carpet, on Village Television in Orange County.
Follow her on Twitter