'Norbert's Little Lessons for a Big Life' - Book Review
Category:
Books and Music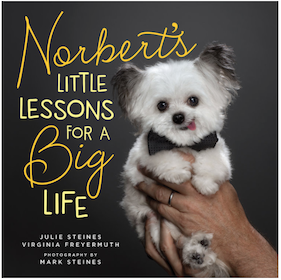 Norbert is a three-pound therapy dog that has brought countless smiles to everyone he visits. This precious pooch has "written" several books with his mom Julie Steines and her mom Virginia Freyermuth. Now the little fellow "pens" his latest book, Norbert's Little Lessons for a Big Life, with accompanying photos by his dad Mark Steines.
Norbert's sage advice is always helpful, especially when you're feeling down. He is always optimistic and has a great sense of humor. As with his other books, Norbert continues to bring happiness to his readers, and with the addition of the photos there are plenty of smiles from cover to cover for everyone, old and young.
This is a great little book to read to your kids at bedtime and for older kids to read themselves. Norbert is not only adorable, he's also very wise. And, he knows his job is to make people feel happy. As he says, "I'm always wondering 'How Can I Make You Smile?'"
This little pooch is not only filled with sage wisdom, he is also a fashionista, as readers will see through the wonderful photos. And with his little dangling tongue, he will definitely bring out the "awws" in everyone reading the book. He's absolutely delightful.
If you haven't heard about Norbert you're missing out on this adorable little guy. He has over 1.5 million followers at his website, and plenty of twitter followers (@NorbertDog) as well.
His mom, Julie, takes him to hospitals and other places to bring joy and love to those who need a little lift in life. His grandmother is an accomplished artist and educator, and his dad cohosts Hallmark Channel's Home & Family.
Norbert's Little Lessons for a Big Life fits the bill for bedtime stories, for gifts – especially to those in the hospital or under the weather, and for coffee tables. It is a conversation piece that will delight everyone as soon as they see the cute cover.
Hardcover: 144 pages
Publisher: North Star Way (October 10, 2017)
Language: English
ISBN-10: 1501187317
ISBN-13: 978-1501187315
About the Reviewer
Francine Brokaw writes about products, travel, and entertainment. She has been published in national and international newspapers and magazines as well as Internet websites. She has written her own book, Beyond the Red Carpet The World of Entertainment Journalists, from Sourced Media Books.
Follow her on Twitter