'No Tomorrow' is an apocalyptic joy kind of show
Category:
Television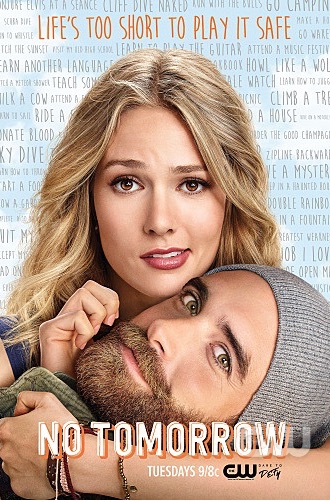 Being known for uplifting approach to difficult subjects such as depression (Crazy Ex-Girlfriend) and pregnancy (Jane the Virgin), the CW is about to entertain, uplift, and inspire you with the romantic comedy No Tomorrow. At the press conference this summer, Corrine Birkenhoff, the show's creator, explained the tone of this unconventional comedy. "I think there is certainly plenty of apocalyptic doom kind of shows, and we wanted an apocalyptic joy kind of show." Huh?
I personally started living fearlessly when the rug was pulled out right under from my feet. Although I admit I'm a recovering control freak, I've lived my life to the fullest and tried my best to live in the moment for over a decade.
So I thought…until I saw the pilot of No Tomorrow. Based on a Brazilian comedy appropriately titled, How to Enjoy the End of the World, the show follows two very different souls who miraculously find each other just as the world is coming to an end. Evie (Tori Anderson) is a hyper-organized hard worker whose career is going nowhere fast. Xavier (Joshua Sasse) is an ex-copy editor for a science magazine, who believes the world is going to end in eight months and twelve days. They fall in love like there is no tomorrow and start experiencing each other's 'Apocalyst' together. None of us are guaranteed tomorrow! Xavier's carpe diem attitude has the ripple effects through Evie's workplace and the people in her orbit.
Sasse explained where his 'seize the day!' philosophy came from. "My father died when he was really young, and I've always been quite cognizant of the finality of life and I do try and live like that all the time. And that was, to be honest, one of the things when the script was sent to me and I read it, I was like, well, that's great. That's totally my vibe. I just think it's wonderful that a TV company like the CW have picked this up and is running with it. Because I think especially, in today's world, I think this is a really important message to grasp. I'm a big advocate of putting your phone down and doing something with your day."
It's been so easy to slide back into my unconscious living once the dust settles. Having been so inspired by the sweet and charming characters, especially Xavier, I started my Apocalyst. My dream has been full of unfinished businesses I should take care of, but a trip to Maui, my paradise on earth, with my dear sister is at the top of the list.
I've never experienced such affect from a TV show. My only hope is that the target audience of the CW does not dismiss this secret of life. Bucket list is not for grown-ups only. Anderson, in her late 20s, emphasized that "time isn't unlimited to us, so take advantage of it." By the way, her list includes surfing in Bali and working in an animal sanctuary.
No Tomorrow premiers October 4, 2016 on the CW.
About the Author
Meg Mimura is a TV critic who actually watches shows zealously in search of human drama worth watching. She is a member of Television Critics Association as well as Academy of Television Arts and Sciences.