'Nine Lives' on Combo Pack
Category:
Blu-ray's and DVD's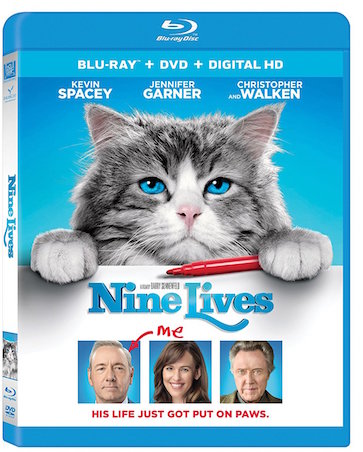 Kevin Spacey is purr-fect in Nine Lives, a delightful story of a gruff, selfish, businessman billionaire who discovers what is most important in life. Tom Brand (Spacey) is building the tallest tower in the northern hemisphere. He is the face of his company. He makes all the decisions. He devotes his life to the company he built while his wife (Jennifer Garner) and daughter (Malina Weissman) are delegated to second place. But things unexpectedly change.
The only thing his daughter Rebecca wants for her birthday is a cat. Tom hates cats. But he relents and goes to a cat store owned by a very strange man, Felix Perkins (Christopher Walken), who has the ability to change lives through his cats. Actually, he changes lives – period.
Tom takes the cat but during a terrible accident his consciousness is transferred to the cat when his human body is put into a coma. So, while Spacey's body is relegated to lying in a hospital bed, his voice is still very much a part of the movie. Viewers can hear him talking but everyone else only hears cat sounds.
Fuzzypants (the name of the cat) tries everything to make people see he is actually Tom Brand, but to no avail. His daughter slowly puts the pieces together and tries to make her mother understand that the cat is her dad, but that's really absurd. Isn't it?
While Tom is stuck inside the cat's body, his son David (Robbie Amell) from his first marriage to an alcoholic snotty woman (Cheryl Hines) is doing everything in his power to keep the company in tact. He is up against a conniving company executive (Mark Consuelos) who is intent on taking the company out of the hands of Brand.
This is a cute story that leads to a sweet ending. It's great for the holiday season because, like the classic movie It's a Wonderful Life, the main character discovers things about himself that make him more aware of the things he has done. But in Tom's case he learns that he has been an SOB and through the experience he has as Mr. Fuzzypants, he learns to be a more caring man.
Even if you aren't a cat lover, you'll adore Mr. Fuzzypants.
There is a bonus feature about the casting of the cat. The filmmakers had to import special cats from Russia to be Fuzzypants. He has brilliant blue eyes and an expressive face.
Another bonus looks at the making of the film with the actors and the director Barry Sonnenfeld, who, incidentally, is allergic to cats! Another interesting part of this bonus feature looks at the color palette in the film. Blues and greens are prominent and the filmmakers discuss how and why they chose those colors. And the costume for Walken's character is eclectic, with parts from different decades and all green. This gives him an unconventional look to go with his unconventional character.
Nine Lives is a fun family film. It's rated PG for thematic elements, language, and some rude humor. Besides the combo pack (Blu-ray, DVD, + Digital HD), the movie is available as a single DVD.
About the Author
Francine Brokaw has been covering all aspects of the entertainment industry for over 20 years. She also writes about products and travel. She has been published in national and international newspapers and magazines as well as Internet websites. She has written her own book, Beyond the Red Carpet The World of Entertainment Journalists, from Sourced Media Books.
Follow her on Twitter