Nicolas Cage is the 'Lord of War'
Category:
Blu-ray's and DVD's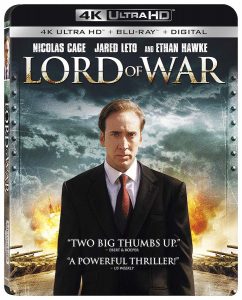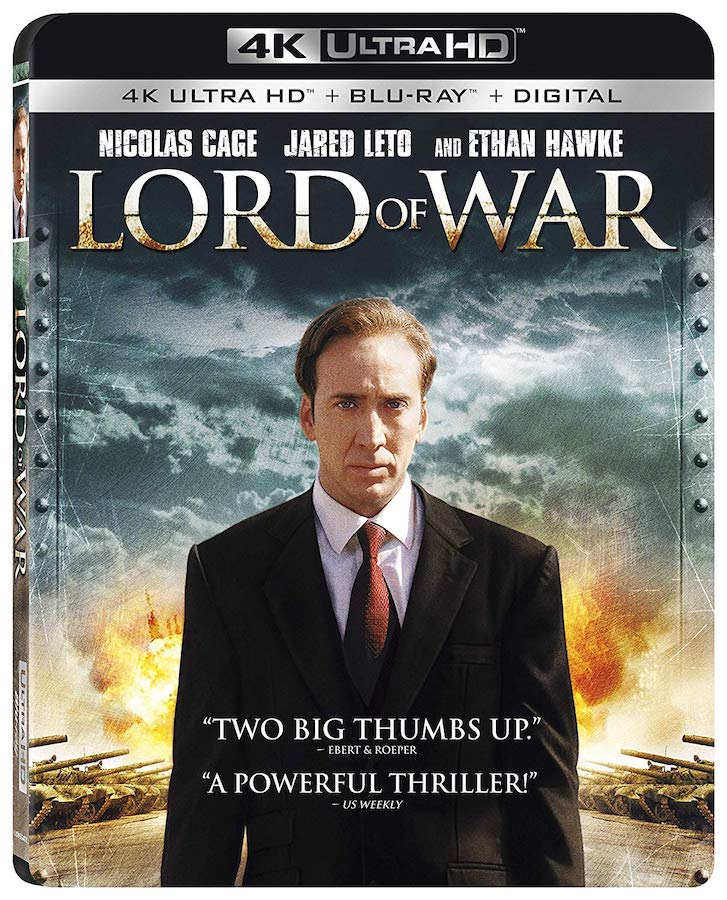 Lord of War is based on a true story, which makes it a very heart-wrenching tale. Cage plays Yuri Orlov, an arms dealer who has no scruples when it comes to doing business. He is a wheeler-dealer with connections all around the world.
Yuri has always been in love with Ava Fontaine (Bridget Moynahan) and once he is successful, he manages to gain her attention and affections. They marry and have a son. But Ava has no idea what Yuri does to get all his wealth. All she knows it that his business takes him all around the globe, and keeps her living in luxury.
For decades Interpol agent Jack Valentine (Ethan Hawke) tries to capture Yuri, but Yuri is too smart. He manages to just scrape the laws and thereby has nothing to be arrested for. Valentine is determined to get his hooks into Yuri, and is willing to wait him out.
This is a gruesome story. Blood rains down all the time. Killing is the business of war, and Yuri is in the business of supplying the wars. He has no side. His only side is that of capitalism. He sells what he can and he makes all the money he can get.
This 2005 movie is available on a 4K Ultra HD Combo Pack with a 4K disc of the film and a Blu-ray disc beginning March 19, 2019. There are deleted scenes as well as two featurettes. One featurette goes behind the scenes at the making of the film. Another looks at the international arms trade. It's a frightening realization that this exists. And in these days of total uncertainty, it's even more terrifying.
The film has Cage doing what he does best – acting. It's interesting to look at his films through the years. He has won an Academy Award (1996 for Leaving Las Vegas) and has many other awards to his credit.
Lord of War is not a family film. It's a provocative story that will shock many viewers.
Lord of War is rated R for strong violence, drug use, language and sexuality. Fasten your seatbelts – it's a bumpy ride!
About the Author
Francine Brokaw has been covering all aspects of the entertainment industry for over 25 years. She also writes about products and travel. She has been published in national and international newspapers and magazines as well as Internet websites. She has written her own book, Beyond the Red Carpet The World of Entertainment Journalists, from Sourced Media Books, is the entertainment correspondent for Good Day Orange County, and has her own TV show, Beyond the Red Carpet, on Village Television in Orange County.
Follow her on Twitter