Nicholas Sparks DVD Collection
Category:
Blu-ray's and DVD's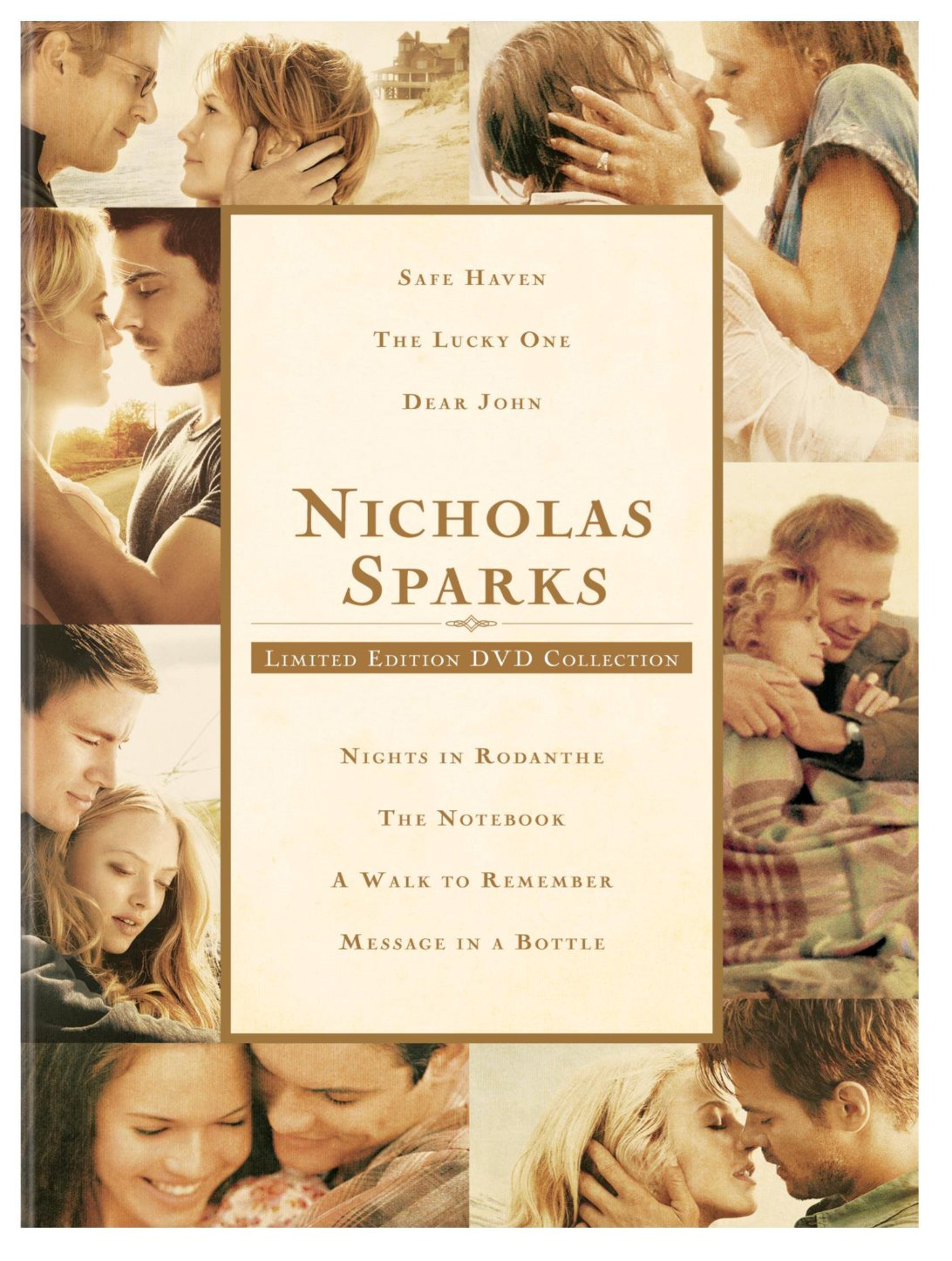 The Nicholas Sparks Limited Edition DVD Collection includes seven films with stories created by the best-selling author. Sparks is noted for his sensitive and dramatic stories filled with love, compassion, suffering, and hope.
The films in this collection are:
Message in a Bottle (1999) starring Kevin Costner and Robin Wright in a story about a lost love and a new one.
A Walk to Remember (2001) starring Mandy Moore and Shane West) in a story of teens whose lifestyles are complete opposites yet they are drawn to each other.
The Notebook (2004) starring Ryan Gosling and Rachel McAdams in a story about true love that surpasses even the tragedy of Alzheimer's.
Nights in Rodanthe (3008) starring Richard Gere and Diane Lane in a story about two people who meet and share an unforgettable time together which leads to a deep love.
Dear John (2010) starring Channing Tatum and Amanda Seyfried in a story of a soldier and his girlfriend who correspond via love letters through the years.
The Lucky One (2012) starring Zac Efron and Taylor Schilling about a soldier who returns from battle with the quest to find the woman he feels was his good luck charm by way of a photograph he discovered while at war.
Safe Haven (2013) starring Julianne Hough and Josh Duhamel in a story of a terrorized woman who finds love and compassion in a new town.
Each of the films revolves around a couple who find love that helps them through tragic times. Some of the movies follow the books penned by Sparks, and some vary a little – or in the case of The Notebook, a lot. Avid Nicholas Sparks readers will see some variations, but still enjoy the screen adaptations, and for fans of dramatic love stories who have not read his books, they will enjoy these intense stories.
Each disc contains some bonus features, which add to the enjoyment of the films. Every viewer will undoubtedly have one film in this collection that will be his/her favorite. Sparks is an interesting man and having had the opportunity to interview the author, I can attest to the fact that he feels strongly about his novels and subsequent films. While death and absence play a big part if his stories, at the heart of them are heartfelt loving relationships.
The Nicholas Sparks Limited Edition DVD Collection includes a special postcard set with images from each film and a letter from Nicholas Sparks. It is a great Valentine's Day gift!
These films are rated PG-13 except A Walk to Remember, which is rated PG.
About the Author
Francine Brokaw has been covering all aspects of the entertainment business for 20 years. She also writes about technology and has been a travel writer for the past 12 years. She has been published in national and international newspapers and magazines as well as Internet websites. She has written her own book, Beyond the Red Carpet: The World of Entertainment Journalists, from Sourced Media Books.
Follow her on Twitter
Like her on Facebook