New books from Disney Learning Encourage Music Exploration
Category:
Books and Music

Disney Learning had some new hardcover books featuring some of their beloved characters in entertaining stories. The "Explore Music" series of Disney Learning books not only includes stories about the characters, but the stories are infused with lessons about music and music creativity. The books are for ages 4+ and are wonderful stories and activities for rainy days.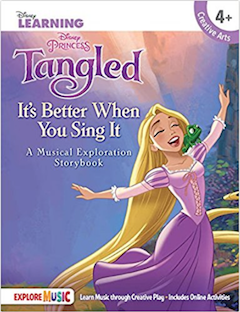 Tangled – It's Better When you Sing It: A Musical Exploration Storybook
The fun-loving princess with the flowing long blonde hair is a favorite among many youngsters. Rapunzel is a feisty and determined young girl.
Between the covers are not only a story featuring Rapunzel, but also singing and vocal activites for your youngster. For instance, kids are encouraged to create their own song using a song they already know but adding their own words. This exercise not only uses music skills, but also vocabulary skills.
Another activity for kids is to make up a duet with two of their toys. Imagination comes into play here.
Besides the story and the activities, there are wonderful and colorful illustrations with all of the characters, including Eugene, aka Flynn Rider. At the end of the book is a list of lessons from the book.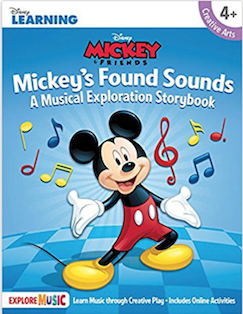 Mickey's Found Sounds: A Musical Exploration Storybook
Mickey and the gang join together to teach kids about music and instruments. They don't have to buy the instruments. The gang shows how to easily make them at home, with the help of mom or dad. For instance a cardboard tube (from a roll of paper towels or toilet paper), a hole punch, wax paper, and a rubber band can easily be put together to make a kazoo.
And by adding different amounts of water to glass jars, kids can create their own xylophone. By tapping the jars with pencils or wooden chopsticks, kids become instant musicians.


Moana – The Beat of your Heart: A Musical Exploration Activity Book
Join Moana and her friends find the island beat. Clap, tap, hum and sing.
Making island-inspired instruments is easy (with the help of an adult) and playing them is like traveling to Polynesia. There are also instructions for hand movements to create your own hula. Learning about the islands and music with Moana is a fun way to spend an afternoon.
The stories in the books are fun and kids learn about music in each of the books. Creativity is also something that kids take away from these books. And by going online there are more activities and lessons to encourage musical exploration.
With the picture books, the stories, and the activities, this book series makes boring afternoons more fun. They are also good for gift giving. And who knows, you might just be encouraging a future musician with these new books. Music is an important element in our lives and it's never too early to start encouraging young minds.
About the Author
Francine Brokaw has been covering all aspects of the entertainment industry for over 20 years. She also writes about products and travel. She has been published in national and international newspapers and magazines as well as Internet websites. She has written her own book, Beyond the Red Carpet The World of Entertainment Journalists, from Sourced Media Books.
Follow her on Twitter