New animated shows from DreamWorks and Netflix in 2018
Category:
Television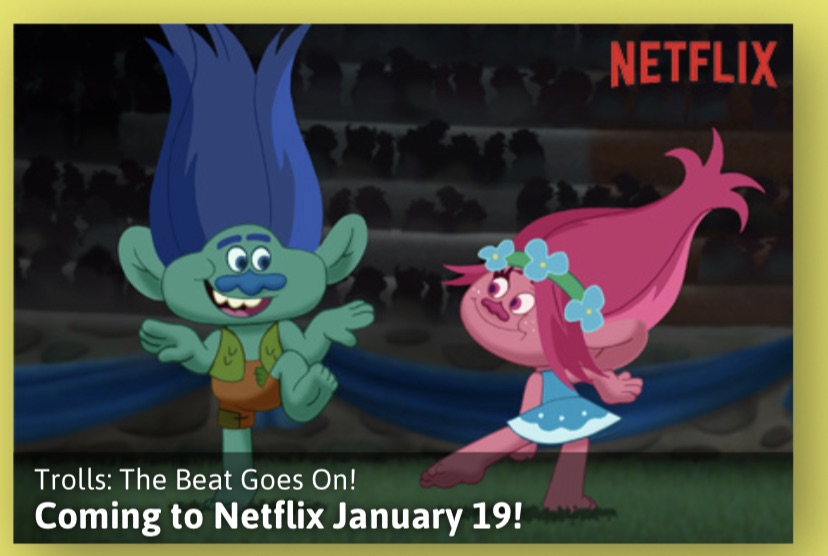 DreamWorks and Netflix have several new animated series that will begin airing in 2018. Recently some members of the media – including myself – were given a sneak peek at the new shows. Hang onto your hats…they're going to be a lot of fun.
First, Trolls: The Beat Goes On is a colorful and musical look inside Troll Village and Bergen Town. The series picks up where the first film left off, and leads viewers into the upcoming second feature film that is scheduled for release in 2020. In the meantime, viewers have plenty of great troll antics to keep them entertained.
Poppy and Branch (Amanda Leighton and Skylar Astin) are the perfect stars for this fun new show. From what I saw, this is an extraordinary new series for both boys and girls. The series is set to premier January 19, 2018.


The Boss Baby: Back in Business continues with the fun and humor of the little baby and his big brother. From the short clip I saw, I cannot wait for this one to start. It is simply adorable. After all, who doesn't like a cute baby? And this one is in charge.
She-Ra is a look at '80s girl power. This is definitely geared for girls and will delight viewers with the strength of courage and character of the stars. This fun fantasy series is sure to be a favorite among many viewers.
Harvey Street Kids is another girl-powered series. Audrey, Lotta, and Dot are best buddies and team up to keep their street safe. They are the self-appointed guardians of Harvey Street.
The Epic Tales of Captain Underpants continues with the adventures of George Beard and Harold Hutchins. They are quite a pair, no pun intended, as their creation, Captain Underpants, provides wacky adventures for everyone.
DreamWorks Trollhunters Part 2: Tales of Arcadia has already been airing on Netflix. This highly acclaimed series follows a group of human kids who undertake the challenge of keeping the world safe. They must do this in the hidden world of the trolls. These aren't the trolls with the colorful long hair. These trolls are different. This is an entertaining series for all ages.
With the collaboration of DreamWorks, Netflix has quickly become the place for young viewers. With their new animated lineup, it looks like another great year for kids TV.
About the Author
Francine Brokaw has been covering all aspects of the entertainment industry for over 20 years. She also writes about products and travel. She has been published in national and international newspapers and magazines as well as Internet websites. She has written her own book, Beyond the Red Carpet The World of Entertainment Journalists, from Sourced Media Books.
Follow her on Twitter