'Napping Princess' on Blu-ray + DVD
Category:
Blu-ray's and DVD's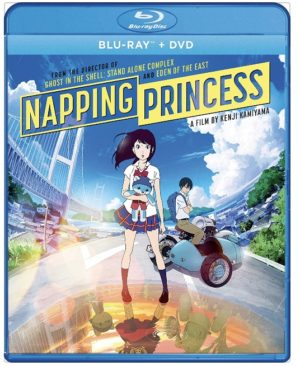 From Studio Ghibli, Napping Princess is an imaginative Anime film combining magic, mystery, and a little mayhem. It's also a film about family.
The year is 2020 and Tokyo is preparing for the Olympics. Kokone is supposed to be preparing for her senior year of high school but this adorable and adventurous girl has a secret. She nods off quite frequently, and when she sleeps she enters a mysterious kingdom with a princess who uses her tablet for magic.
Kokone's father is a mechanic and inventor. He has been caring for his daughter since the death of his wife. As far as Kokone knows, he is her only living relative. But there are secrets that bubble up in real life as well as in her dreams. And when she finally puts the pieces together, her life and her family's history is revealed.
What this film does is infuse magic into the real world. When Kokone's dream world meets her real world, things happen – magic happens.
Her father is arrested for stealing technology from a powerful corporation that is one of the largest automobile companies in the country. But Kokone knows her father would never do that. So, with the help of her childhood friend Morio, they set off on a magical adventure to Tokyo to save her father and in doing so, ultimately uncover the family secret that has been kept from her her entire life.
What is behind the stolen technology? This technology is the ultimate blueprint for a true self-driving car. The cars are supposed to be the highlight of the Olympics opening ceremony, but this family's secrets might put an end to that. By following the clues in her dreams, Kokone merges her dreams with her life and everything unfolds in this somewhat emotional family story.
This imaginative movie also brings up the idea that what we dream might not be all fantasy. Our dreams could be based on reality. Metaphysics might not have been at the forefront in the minds of the filmmakers when the story was written, but it definitely has a part in it.
Napping Princess is a fun fantasy film. Bonus features include backgrounds with the Japanese cast and filmmakers.
About the Author
Francine Brokaw has been covering all aspects of the entertainment industry for over 20 years. She also writes about products and travel. She has been published in national and international newspapers and magazines as well as Internet websites. She has written her own book, Beyond the Red Carpet The World of Entertainment Journalists, from Sourced Media Books.
Follow her on Twitter