My Little Pony: The Movie 30th Anniversary Edition
Category:
Blu-ray's and DVD's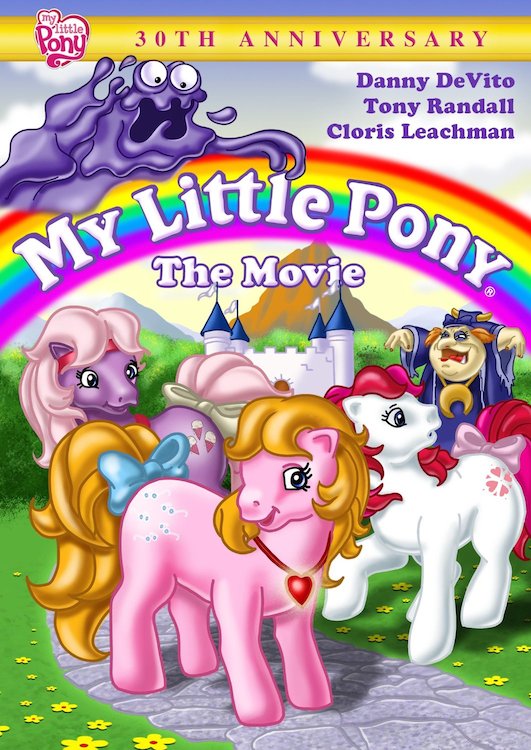 Thirty years ago the first My Little Pony movie wowed audiences and generations of fans have enjoyed the antics and love of these characters. They are fun, loveable, and filled with great lessons for everyone.
In this film, the first day of spring brings plenty of surprises. First of all, baby Lickety Split feels the others pick on her too much so she runs away, with baby dragon Spike. Then the evil witch Hydia and her two daughters Reeka and Draggie are on a mission to destroy Ponyland. This sets up the foundation for the rest of the film.
From their evil lair in the Volcano of Gloom, the witches plot to create a purple goo called Smooze, which will bury all of Ponyland and destroy the world of the ponies. While the ponies and their friends attempt to fight off the Smooze and at the same time search for the two runaways, Baby Baby Spike get lost and discover the Grundles who have been displaced. So, it seems everyone is threatened and a miracle is in order.
But it doesn't take a miracle. It takes the Rainbow of Light to come to their rescue. Calling on their human friends, the ponies seek the assistance of Megan who is the holder of the magical necklace that can unleash the Rainbow. Between the Rainbow of Light and the help of the Flutter Ponies, they should be able to save the town and defeat the witches and the Smooze.
This is a colorful, musical, and fun little movie for anyone who grew up with the ponies as well as a new generation of viewers. The world of My Little Pony is a creative, uplifting, and positive world.
Lending their voices to the characters are Danny DeVito, Madeline Kahn, Cloris Leachman, Tony Randall, and Rhea Perlman. With plenty of songs and cute characters, the movie is filled with entertainment. And this anniversary edition includes four bonus sing-alongs.
My Little Pony: The Movie is rated G for the entire family.
About the Author
Francine Brokaw has been covering all aspects of the entertainment business for 20 years. She also writes about technology and has been a travel writer for the past 12 years. She has been published in national and international newspapers and magazines as well as internet websites. She has written her own book, Beyond the Red Carpet The World of Entertainment Journalists, from Sourced Media Books.
Follow her on Twitter
Like her on Facebook