'My Fellow Americans' on DVD
Category:
Blu-ray's and DVD's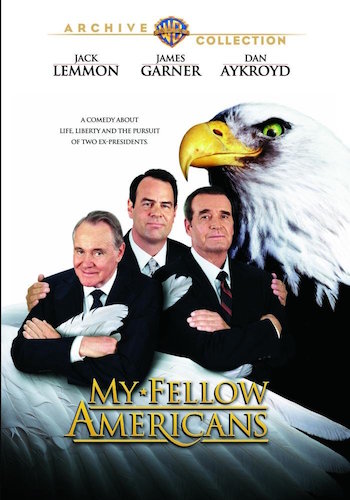 My Fellow Americans is a fun film with two entertainment icons. Jack Lemmon and James Garner star as two former Presidents of the United States from opposing parties. They have always been enemies but find themselves in a situation where they must work together. What a novel idea – a democrat and a republican actually working together for the good of the country.
Republican Russell Kramer (Lemmon) won the presidency against democrat Matt Douglas. Four years later Douglas ousted Kramer. Then four years after that Kramer's VP, William Haney (Dan Akroyd), ousted Douglas. Now it's three years into Haney's presidency and things are about to blow up – literally.
Haney is about to be exposed for an illegal payoff. He and his staff decide to deflect the situation and frame Kramer. But Kramer and Douglas know this isn't right. Soon they are on a trek for the truth and find themselves in the crosshairs of a rogue NSA agent who wants them killed.
The two men decide to work together to stay alive and also find evidence linking Haney to the crime and exonerating Kramer. They travel by train, car (even though Kramer hasn't driven himself in decades), and helicopter. All the while the NSA is on their trail.
The dialogue is amusing and the two characters are entertaining as they travel together for a common purpose but trade barbs every step of the way. It's a fun story made even more so by Lemmon and Garner. The pairing of the two actors is golden.
A fun aspect of this film is the opening when viewers learn the campaign between Kramer and Douglas was the most vicious of any previous presidential campaign. This was made in 1996 so the filmmakers hadn't yet experienced the presidential campaign of 2016!
The bonus feature on the DVD is a reel of bloopers. Jack Lemmon had a hard time keeping a straight face. He obviously enjoyed making this movie.
John Heard, Wilford Brimley, Lauren Bacall, Sela Ward, Esther Rolle, Conchata Ferrell, Everett McGill, and Bradley Whitford costar.
My Fellow Americans is definitely a fun film with continual laugh-out-loud scenes. It's rated PG for salty language and innuendo and is part of the Warner Archive Collection.
About the Author
Francine Brokaw has been covering all aspects of the entertainment industry for 20 years. She also writes about products and travel. She has been published in national and international newspapers and magazines as well as Internet websites. She has written her own book, Beyond the Red Carpet The World of Entertainment Journalists, from Sourced Media Books.
Follow her on Twitter