'My Big Fat Greek Wedding 2' on Combo Pack
Category:
Blu-ray's and DVD's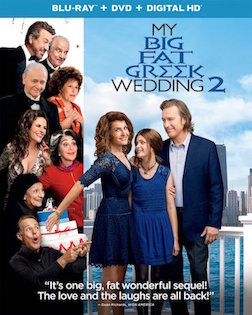 The sequel to the hit 2002 movie My Big Fat Greek Wedding is now available on Combo Pack. My Big Fat Greek Wedding 2 reunites the entire cast from the original film in a story that has the entire gang preparing for another big wedding.
Toula (Nia Vardalos) and Ian (John Corbett) are living a happy life with their teenage daughter Paris (Elena Kampouris). However Paris is not so happy. She is a typical teen who wants to spread her wings but her parents are overprotective and she feels her entire Greek family is smothering her.
That is only part of this story. The wedding part comes in when Toula's parents Gus (Michael Constantine) and Maria (Lainie Kazan) discover they are not legally married. While Gus wants to get married immediately, Maria waits for a proper proposal, and even after that she still has her doubts about marrying the man with whom she has spent the last several decades.
Toula always wants to fix everything in her family and dedicates her life to them and especially to her daughter. Ian feels cast aside at times. After all, living in this big Greek family is daunting and overwhelming. But he loves them and especially his wife and daughter.
Vardalos wrote this film and gathered the entire cast together again for another romantic comedy. Even her real life husband, Ian Gomez, returns as Ian Miller's good friend. And Andrea Martin is just as pushy as ever as Aunt Voula.
While this is a good attempt at a sequel, it falls short of the fun and entertainment of the original, which was also written by Vardalos.
Bonus features on the disc include a gag reel and a "making of" featurette. The cast discusses reuniting for this sequel and the fun they had on the original and this film. What is amazing is that the whole cast from 2002 agreed to return and they all have a cute storyline, even though some of them (like Ian's parents) are small.
If you loved the first film, you might not enjoy this one as much. The first had more comedy and entertainment but there are still some funny parts to this movie. It's fun to see the characters again. Perhaps there will be a third film in this franchise. It's up to Vardalos. Does she have another story to tell? We'll see in the future. Maybe someone else in her family will get married? Joey Fatone's Angelo character has some surprises in store for viewers.
My Big Fat Greek Wedding 2 is rated PG-13 for some suggestive material.
About the Author
Francine Brokaw has been covering all aspects of the entertainment industry for 20 years. She also writes about products and travel. She has been published in national and international newspapers and magazines as well as Internet websites. She has written her own book, Beyond the Red Carpet The World of Entertainment Journalists, from Sourced Media Books.
Follow her on Twitter