'Muppet Babies: Time to Play!' on DVD
Category:
Blu-ray's and DVD's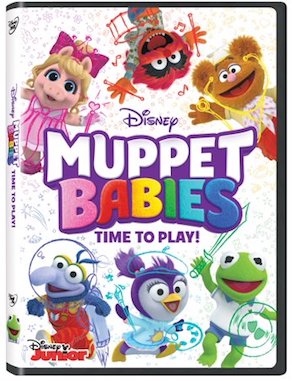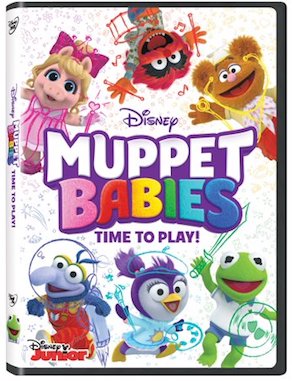 Disney Junior's Muppet Babies brings back the adorable tots. Kermit, Piggy, Fozzie, Gonzo, Animal, and Summer are together in this fun animated series. The Muppet Babies: Time to Play! DVD combines six episodes (each with two stories) along with several bonus features.
Matt Danner voices Kermit the Frog, Melanie Harrison voices Piggy, Dee Bradley Baker is the voice of Animal, Ben Diskin voices Gonzo, Eric Bauza supplies the voice for Fozzie Bear, Jessica DiCicco is the voice of Summer Penguin, and Jenny Slate voices Miss Nanny. Every day the six young Muppets meet at their daycare and experience some exciting antics.
Each one of the youngsters has a great imagination and when they join together they can go and do anything. Whether they are in their playroom or out in the playground, there are plenty of great adventures dreamed up by the group.
With songs to accompany the stories and little life lessons in each story, the episodes are enjoyable for all age groups. Preschoolers especially will enjoy the fun had by the group. And older kids as well as parents will get a laugh at Miss Nanny's socks. Every episode her socks match whatever the subject is.
Everyone will undoubtedly have his/her favorite among the six youngsters. Piggy is always looking to be the star. Kermit tries to be the bravest. Summer is the most artistic. Animal is adorable, to say the least. Gonzo is inventive. And Fozzie is always inserting one-liners and jokes into everything – Wacka Wacka!
There are ten shorts on the disc: "Muppet Babies: Show & Tell" shorts each have the kids looking for something fun for show and tell time at the daycare. And there are six music videos featuring the cast of young Muppets.
Whether confronting a fear of the dark, or learning about favorite places, leave it to Kermit, Fozzie, Piggy, Animal, Gonzo, and Summer to entertain young kids. This is a great DVD to keep in the car or keep on hand for times when kids need a little down time. The episodes are filled with imagination and a lot of Muppet entertainment. They are musical, colorful, and quite frankly, really cute. And, the entire family will be entertained by the antics and cuteness of the gang!
Muppet Babies: Time to Play! is rated Y for everyone.
About the Author
Francine Brokaw has been covering all aspects of the entertainment industry for over 25 years. She also writes about products and travel. She has been published in national and international newspapers and magazines as well as Internet websites. She has written her own book, Beyond the Red Carpet The World of Entertainment Journalists, from Sourced Media Books.
Follow her on Twitter