Mr. Robot airs on USA
Category:
Television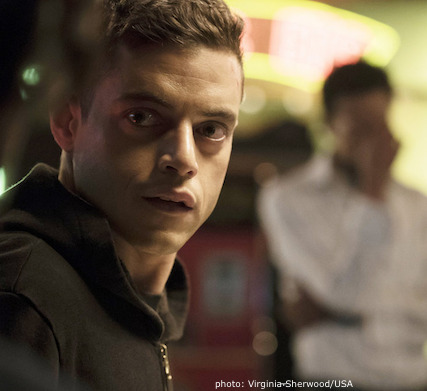 Combining technology with criminal behavior (sound familiar?) USA Network's newest drama is "Mr. Robot". Rami Malek stars as Elliot, a young computer programmer working as an engineer in a cyber security office but moonlights as a vigilante hacker. He is wooed by an underground group of hackers called the F Society, led by Mr. Robot, played by Christian Slater.
Slater told members of the media about his character and the premise of the show. "He's recruited these people, and he's screened them all and found this particular young man and wants to use his skills in order to achieve his end game."
Slater's character has been described as a David Koresh-like man, and Rami Malek joked, "What better actor to play David Koresh than Christian Slater."
Slater has a history of playing this type of revolutionary, activist, and some would say anarchist, character. In the 1990 film "Pump Up the Volume". "Instead of taking over a school, now we're taking over the world and erasing corporate debt and getting it off the shoulders of the students."
Carly Chaikin (who was in "Suburgatory" from 2011-2014) plays Darlene, whom she describes as "part of F Society and she's very dark." She explained, "I am basically second in command to Mr. Robot and write the codes that are taking down corporate America that we're using. It's really amazing to play a strong female who, even if to the audience it might seem like she's doing something bad, to her she's fighting for something that she really believes in."
Portia Doubleday plays Angela, a computer expert on the other side of the law from Darlene. "I think Angela also struggles with what is good and what is bad and what does success mean. She's an overachiever, and I think she illustrates corporate America and what the machine is like."
According to Slater, "I think that we sometimes live under a veil of enormous illusion, and at the end of the day we're all human beings doing the best we can. I think we tend to sometimes put people up on these particular pedestals and have these ideas about them and what they should be and what they should stand for. It's like you shouldn't always meet your heroes. It could be a dangerous thing to actually get to know somebody that you've admired and respected for so long because 90% of the time they can disappoint you and let you down."
Today we have "Scopion" and" CSI:Cyber" dealing with plenty of hacking characters. "Mr. Robot" adds another component to the hacking world on television. In this age when hacking into a movie studio or even the White House makes daily news, these shows reflect the technology of the time.
By the way, for those of you who know you've seen Rami Malek before, yes, you certainly have. He's been in many shows, and most notably as Ahkmenrah in the "Night at the Museum" films.
About the Author
Francine Brokaw has been covering all aspects of the entertainment business for over 20 years. She also writes about technology and has been a travel writer for the past 15 years. She has been published in national and international newspapers and magazines as well as Internet websites. She has written her own book,  Beyond the Red Carpet The World of Entertainment Journalists, from Sourced Media Books.
Follow her on Twitter
Like her on Facebook