Mr. Peabody & Sherman Blu-ray+DVD+Digital HD Combo Pack
Category:
Blu-ray's and DVD's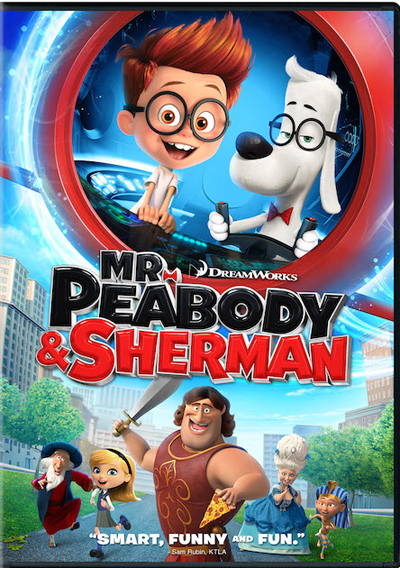 In the late 1950s and 1960s, there was a little cartoon with a genius dog and a cute little boy. Peabody and Sherman were characters created by Jay Ward, who was also responsible for Rocky & Bullwinkle, Dudley Do-Right, George of the Jungle and other legendary animated characters. Now the folks at DreamWorks have introduced Mr. Peabody & Sherman to a whole new generation, and reintroduced them to the rest of us, in a fun, creative, and very witty way.
Mr. Peabody is a genius. He's an inventor, a scientist, and an all-around know-it-all. He adopted a baby about seven years ago and since then Sherman has been his pride and joy, as well as a receptacle for his knowledge. Well, as much as any preschooler can be. Then when Sherman finally goes to school, their lives change dramatically. A little girl named Penny bullies Sherman and he loses control after being taunted. The powers-that-be reconsiders whether Mr. Peabody is a suitable parent for a human child.
Peabody invites Penny and her parents to dinner to iron out any difficulties. It's then when Sherman shows Penny the WABAC machine. If you don't know, WABAC is an acronym for Wavelength Acceleration Bidirectional Asynchronous Controller. In other words, it's a time machine. No one knows about this time-traveling creation except Peabody, Sherman, and the people in history who have been visited by the two of them during their "fieldtrips" to the past. Penny is a devious little girl and tricks Sherman into taking the WABAC out for a spin. They end up in ancient Egypt where Penny insists on staying. The little boy has no choice but to go back to the present to get help from Mr. Peabody.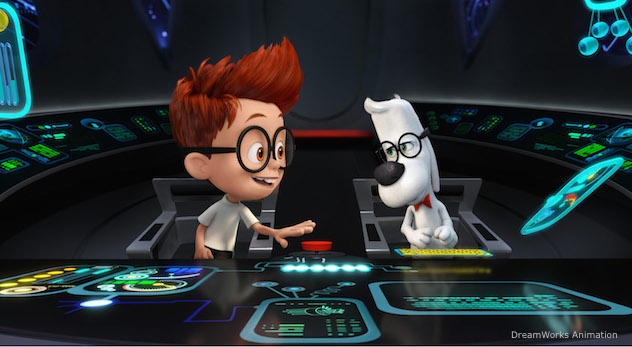 During their adventures they visit King Tut, Leonardo DaVinci, Marie Antoinette, Agamemnon, Odysseus, and by the end of the film Albert Einstein, Abraham Lincoln, Isaac Newton, George Washington, Beethoven, and even Bill Clinton make appearances when the WABAC disrupts the space/time continuum. Mr. Peabody and Sherman must work quickly to repair the hole in the space/time continuum and make everything right with the world.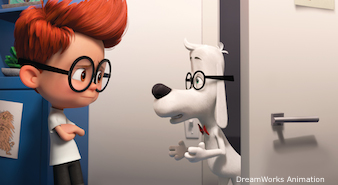 The movie is filled with witty one-liners, making it not only a fun film for kids but also enjoyable for adults. Even if you aren't too familiar with the characters, this is a cute and creative story. Listen carefully or you might miss some of the humorous comments. "I'll get you, Mr. Peabody. And your little boy too." That's right out of The Wizard of Oz, well, almost. ("I'll get you, my pretty. And your little dog too" was the actual line in Oz.) That is just one witty little piece of this adorable story.
The Blu-ray + DVD + Digital HD pack includes several bonus features, including some interesting featurettes. There is a tour of the WABAC and another featurette includes actual scientists discussing theories about time travel and the universe. There are segments from the TV series as well the premier episode of the 1959 TV Rocky & Bullwinkle & Friends Show. The history of Peabody and Sherman is discussed, as is a look at DreamWorks and the development of the movie from start to finish.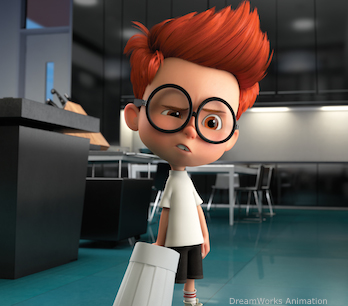 Plus, there is a featurette with Mr. Peabody getting his pawprints in cement at the famous Chinese Theater, and a brand new Rocky & Bullwinkle short. A WABAC jigsaw puzzle and a Memory Match (think: concentration) game round out the bonus features.
We all know every dog deserves a boy! Mr. Peabody & Sherman are definitely a great team and the movie is a fun ride through history.
The movie is also available in a Blu-ray 3D+Blu-ray+DVD+Digital HD pack.
Mr. Peabody & Sherman is rated PG for some mild action and brief rude humor.
About the Author
Francine Brokaw has been covering all aspects of the entertainment business for 20 years. She also writes about technology and has been a travel writer for the past 12 years. She has been published in national and international newspapers and magazines as well as internet websites. She has written her own book, Beyond the Red Carpet The World of Entertainment Journalists, from Sourced Media Books.
Follow her on Twitter
Like her on Facebook