Mr. & Mrs. Murder - Season 1 DVD
Category:
Blu-ray's and DVD's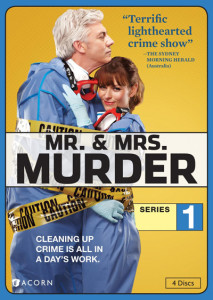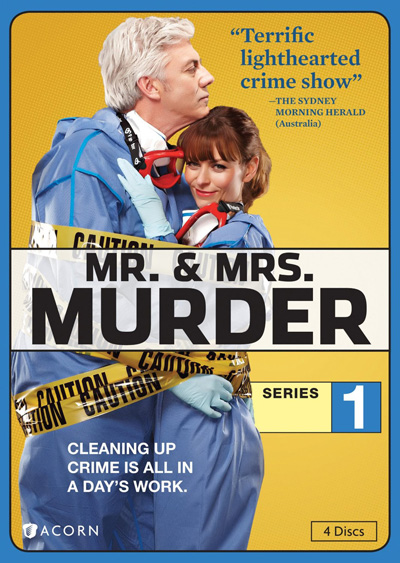 Mr. & Mrs. Murder is an Australian TV series that stars Shaun Micallef and Kat Stewart as Charlie and Nicola Buchanan, a married couple who solve crimes. The Buchanan's are actually crime scene cleaners, however they cannot stop at just cleaning up after murders. These two prefer to work on their own investigations, with the permission of the local police detective.
The first episode has the couple cleaning a hotel room after a murder has occurred. They are a witty and charming couple who simply cannot let things go. And their quick intelligence and talent of putting clues together makes them successful at solving crimes.
What also makes this couple fun to watch are their personal interactions and quips with each other. This is definitely a lighthearted show that is more about the couple than the actual crimes. It is a fun way to incorporate crime stories. And when you think about it, cleaning up crime scenes is in itself collecting evidence, so these two simply take their jobs one step further.
Mr. & Mrs. Murder is a fun and witty whodunit show starring two charming characters. Season One (called Series 1) includes all 13 episodes as well as a few bonus features. There are interviews with the cast and a cute behind-the-scenes featurette.
From 1979-1984 Stefanie Powers and Robert Wagner starred in another husband/wife TV series, Hart to Hart, about a couple that solves crimes. That was not unlike the theme of this show, with the exception that the Buchanan's actually do have the job of cleaning up crime scenes and they are not rich, like the Harts.
Mr. & Mrs. Murder is not rated, however it contains sexual references and drug use so it is not appropriate for children.
About the Author
Francine Brokaw has been covering all aspects of the entertainment business for 20 years. She also writes about technology and has been a travel writer for the past 12 years. She has been published in national and international newspapers and magazines as well as internet websites. She has written her own book, Beyond the Red Carpet The World of Entertainment Journalists, from Sourced Media Books.
Follow her on Twitter
Like her on Facebook