'Monster Trucks' on Blu-ray
Category:
Blu-ray's and DVD's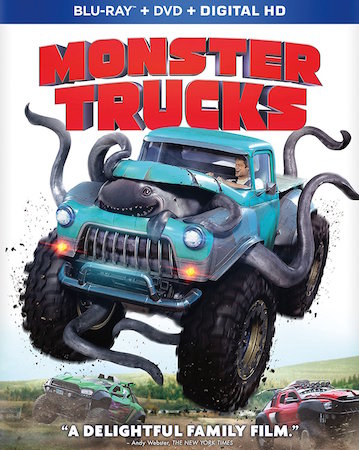 Lucas Till stars in Monster Trucks, a fun ride with plenty of gusto. Rob Lowe is the villain in this story. He plays Reece Tenneson, the owner of an oil company drilling deep in North Dakota. When his geologist Dowd (Thomas Lennon) discovers what could be a new ecosystem very deep in the earth, everything explodes – literally. And out come three new creatures. Two are captured and the third escapes.
Tripp (Till) is a handy high school student who works in the town's junkyard while at the same time trying to fix up a truck of his own. He discovers a creature in the garage and after a rocky start they form a bond. Tripp names him "Creech" and with some ingenuity discovers the monster makes a great engine for his truck. So, with some alterations, the truck now becomes a monster truck, definitely literally.
In the meantime, Meredith (Jane Levy), one of Tripp's classmates, wangles her way into his secret and soon the two of them are off and running in the new super-powered truck. But what about Creech? They know Tenneson and his henchmen are looking for him, and they will kill him and the two others to keep their oil-drilling site on track. If the word got out that they were destroying a new ecosystem, they would be stopped and there is no way Tenneson is going to let that happen. All that matters to him is getting his oil out of the ground.
If you thought you had seen everything when it comes to car – or truck – chases, think again. When Jane and Tripp finally manage to free the two captured creatures they are able to "MacGyver" two additional trucks with the monsters as their engines. Their intent is to get the three creatures back up to the drilling site so they can return to their homes.
And speaking of MacGyver, Till plays that character in the new TV series.
With these three souped-up trucks, or I should say monstered-up trucks, it's a wild ride to their destination.
Bonus features on the Blu-ray include looks at the characters with the actors, creating the creatures and the trucks, and a gag reel. Also included in the box are Monster Truck wall decals.
Monster Trucks is a fun family film. It's rated PG for action, peril, brief scary images, and some rude humor. While the trucks are characters in their own right, kids will adore the creatures too.
About the Author
Francine Brokaw has been covering all aspects of the entertainment industry for over 20 years. She also writes about products and travel. She has been published in national and international newspapers and magazines as well as Internet websites. She has written her own book, Beyond the Red Carpet The World of Entertainment Journalists, from Sourced Media Books.
Follow her on Twitter