Monkey Kingdom – Movie Review
Category:
Movies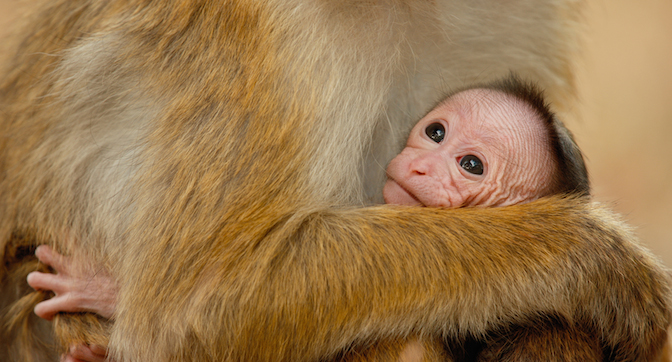 The sixth release from Disneynature, Monkey Kingdom is another wonderful film for the entire family. It's set in the jungles of South Asia, where Maya, a new mom, is finding life changes when she has a son.
The film follows a troop of monkeys, headed by the alpha male named Raja. The monkeys have a hierarchy and the star of the story, Maya, is on the bottom rung, literally. She is not worthy of a place high on the tree with the ripest fruit and the sunshine to warm her on cold days. She is relegated to the bottom and is not welcomed by the upper class. Maya, along with the others in the lower class, have a difficult and more dangerous time finding food, but they manage.
Then, when a new male comes to Castle Rock, the home of the troop, he takes a liking to Maya. His name is Kumar and he and Maya sneak off for some time alone, to the frustration of Raja, who later chases Kumar away. Months later Maya gives birth to little Kip, the son of Kumar.
Maya discovers a mother's love is the most important thing in her life. She will do anything for her son, and she does. She loves this little guy and they have a close relationship. Then when Kumar returns, Maya has her whole family together for the first time.
The troop of about 50 members is forced away from their home, but Maya and Kumar take the lead, figuratively and literally, and end up keeping their "friends" safe and secure. And they take on the challenge of reclaiming their home, Castle Rock.
There are a couple deaths among the troop, so parents of young children who are upset with seeing a dead animal should take note. The actual killings are not shown on screen however.
Besides the fun-loving monkeys, there is an adorable mongoose, a dangerous monitor lizard, and leopards. Yes, the film shows the dangers of life in the forest, but it also shows the love and community of the various animals and their lives in the wild. After all, this is a nature film.
Monkey Kingdom opens April 15, 2015. For every ticket sold during the opening week, Disneynature will make a donation to Conservation International to help protect monkeys and other endangered species in their natural habitats. Over the years, Disneynature has helped various wildlife organizations through their films and donations from the opening week proceeds of these nature movies.
Since it began in 2008, Disneynature's mission is to bring the world's top nature filmmakers together to share a wide variety of wildlife stories on the big screen in order to engage, inspire and educate theatrical audiences everywhere. For the first Disneynature film, Earth, three million trees were planted in Brazil's Atlantic Forest. For Oceans 40,000 acres of marine protected area was established in The Bahamas. For African Cats, 65,000 acres of savanna in Kenya was protected. Chimpanzee helped protect about 130,000 acres of wild chimpanzee habitat and educate people about chimpanzee conservation. And for the movie Bears, funding for restoration grants for the U.S. National Parks helped protect endangered species.
These are all entertaining films, but they also serve a purpose. They educate and hopefully protect some of the most extraordinary things that make up this planet.
Monkey Kingdom is narrated quite adorably by Tina Fey. This is a heartening and beautifully filmed story of motherly love. Stay for the credits to see how they filmed this extraordinary movie.
Monkey Kingdom is rated G. It's fun for the entire family. Just keep in mind about the two deaths, in case you have very sensitive children – or adults.
About the Author
Francine Brokaw has been covering all aspects of the entertainment business for 20 years. She also writes about technology and has been a travel writer for the past 12 years. She has been published in national and international newspapers and magazines as well as internet websites. She has written her own book, Beyond the Red Carpet The World of Entertainment Journalists, from Sourced Media Books.
Follow her on Twitter
Like her on Facebook