'Monica the Medium' Season 2 Premiers April 25
Category:
Television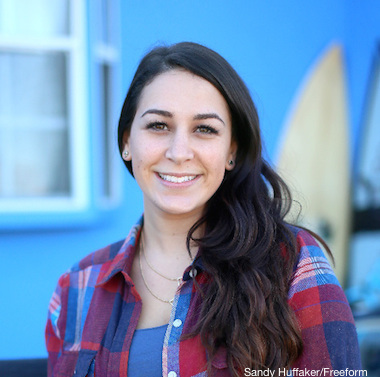 Freeform (formerly known as ABC Family) caters to those in the life stage spanning ages 14 to 34. The network's efforts to appeal to the millennial viewers' question of "Who am I becoming?" have been successful in some scripted and unscripted shows, but the most healing and uplifting one is Monica the Medium.
Yes, you heard me right. Medium. The series is about Monica Ten-Kate's personal journey of being Monica as well as Monica the Medium. I was particularly fascinated by the inner workings of channeling the spirits of those who had passed on. In Season 1, Monica not only delivered remarkably detailed messages to the living but also revealed her method of communicating with spirits. She would often ask them to slow down or reluctantly yield to the loudest spirit with burning desire to communicate! Since the messages Monica receives are not in plain English, she must interpret images, sounds, feelings, and noises. That's why the more readings she gives, the better she gets with her craft.
In Season 2, we will see her in action in San Diego. Quite a change from cold, dreary Pennsylvania, but even in warm, sunny, and laid-back San Diego she is busy trying to balance her professional, personal (dating), and academic aspects of her life.
I still hear a hint of hesitation when she introduces herself as a medium. Monica admits that she feels nervous about labeling herself as a medium, particularly when she has to name her occupation. "Like at a doctor's office. You'll never know how people will react…there are haters, skeptics, and meanies out there," says Monica.
I see this delightful 22-year-old-lady as a healer. It has been only a few years since she "kind of came out of the medium closet," but her readings are powerful enough to heal and comfort a lot of people. Monica the Medium brings a closure to excruciating experience of loss. When you lose someone significant in your life, you need a closure so that you can go on living.
Too bad Monica couldn't read my ex's mind who had left me without any explanations one fine day. It took me years to fabricate my own closure to that chapter of my life because I really don't know what happened.
About the Author
Meg Mimura is a TV critic who actually watches shows zealously in search of human drama worth watching. She is a member of Television Critics Association as well as Academy of Television Arts and Sciences.