Moms' Night Out on Blu-ray
Category:
Blu-ray's and DVD's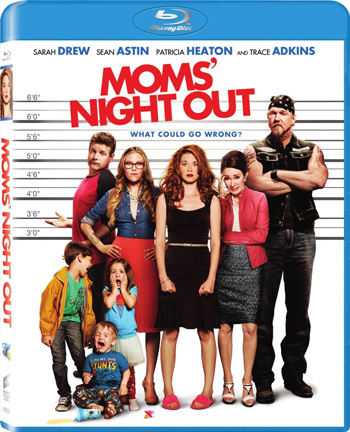 Kids, housework, daycare, and life all pile up for one mother as she hits the boiling point. Allyson (Sarah Drew) wants to be the perfect wife and mother, but sometimes she gets completely overwhelmed. Moms' Night Out is her adventure trying to escape for one simple night out with her friends.
Sean Astin is her loving husband who supports her and wants her to get her to regain her sanity. Allyson sets up a Saturday night dinner with her friend Izzy (Andrea Logan White) and Sondra (Patricia Heaton) who is the pastor's wife. Izzy is dealing with the fact that her husband is inept when with their twins and the shocker that she just found out she is pregnant again. And Sondra is taking on her teenage daughter who is at the rebellious stage. All three women definitely need a night away from kids and housework, and responsibilities.
What they get is not the peaceful night out they imagined. When their dinner reservations were lost they decide to make the best of things and do something else. After all, their husbands are taking care of things at home. Right?
This is more than the story of the women's night out. It is also the story of the men who discover the stress and frustration their wives go through on a daily basis when taking care of the youngsters.
Along the way, the women get the help of a biker names Bones (Trace Adkins) and a cabbie (David Hunt) who was enlisted to help them when they "think" their minivan was stolen.
Yes, there are a lot of crazy things going on during this film. It's a slapstick look at life through the eyes of young families who are at the brink of breaking, but who discover that life is what they make it.
Anyone who has had these exasperating times dealing with children will identify with the women and even the men. To be honest, it even makes viewers a little anxious when watching the parents trying to handle young children. Everyone deserves some time for themselves to unwind and let go, but these folks get a lot more than they bargained for.
The bonus features include deleted scenes and a look behind the scenes at the making of the film. The movie is also available on DVD.
Three families, six kids, a biker, a cabbie, a sister-in-law, a new baby, and a lot of whacky elements collide in one night. Either you'll love it or you'll hate it. It all depends on your perspective. Actually, my favorite character is Bones, the biker with the heart of gold.
Moms' Night Out is rated PG for mild thematic elements and some language.
About the Author
Francine Brokaw has been covering all aspects of the entertainment business for 20 years. She also writes about technology and has been a travel writer for the past 12 years. She has been published in national and international newspapers and magazines as well as internet websites. She has written her own book, Beyond the Red Carpet The World of Entertainment Journalists, from Sourced Media Books.
Follow her on Twitter
Like her on Facebook