'Mission: Jimmy Stewart and the Fight for Europe' by Robert Matzen – Book Review
Category:
Books and Music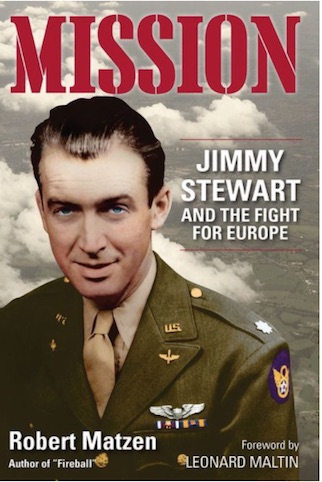 While you might think of Jimmy Stewart as only a Hollywood A-list actor, there was much more to this man than his on screen characters can portray. Mission: Jimmy Stewart and the Fight For Europe is a fascinating look at Stewart's participation in World War II as well as his commitment to his country and the men he commanded.
Jimmy Stewart and Henry Fonda were best friends from the time they shared an apartment in New York while hunting for acting jobs. Then Fonda got a contract in Hollywood and left, followed a short while later by Stewart. Their fun-loving Hollywood lifestyle had them carousing at clubs and restaurants, and playing the field with the Hollywood actresses of the day.
Stewart had a love of flying and began taking lessons. With the war looming, he decided he would be best suited for the Army Air Corps. He spent his spare hours in the air building up his time. When it became time to join, Stewart was up against MGM who held his contract. They didn't want anything happening to their money making star. But James Stewart didn't want to stay in Hollywood with all its superficiality. He wanted to contribute to society and his country. He faced several obstacles on his way, but he finally got what he wanted.
Stewart rose from private to colonel and experienced the harshness of war while being stationed in England and flying missions over Germany and France. His combat missions eventually took a toll on him and after one brutal mission he decided he wouldn't fly again. The stress of fighting and being in command of men who also fought and some died and some were taken prisoners, took a toll on Stewart. He couldn't eat and said ice cream and peanut butter were what got him through. He was stressed to the max. But through it all he was deeply committed to fighting for his country. His patriotism and concern for the men under his command are deeply commendable.
After returning to Hollywood, Stewart teamed up with his friend Frank Capra for another Stewart/Capra hit, It's a Wonderful Life. In this film, the first after the war for both the star and the director, the character of George Bailey discovered life is worth living. After floundering since returning from the war and trying to wrap his head around what he experienced, Stewart felt a lot like his character. It's a Wonderful Life brought him back to the world, in a way. He never got over what he went through in the war, but he once again became a beloved movie star.
The story of James Stewart is fascinating. Yes, he has a large filmography and won awards for his acting, however he was a true hero in the war, although he would never want anyone to think of him that way. Stewart was not about himself, even though actors tend to be self-promoting. But Jimmy Stewart was not. He was a genuinely caring man.
This book details his rise to stardom and his reclaiming his career after the war, however it mainly covers his years in the service. This book is an interesting and amazing story about one of Hollywood's best actors of the 20th century.
About the Reviewer
Francine Brokaw writes about products, travel, and entertainment. She has been published in national and international newspapers and magazines as well as Internet websites. She has written her own book, Beyond the Red Carpet The World of Entertainment Journalists, from Sourced Media Books.
Follow her on Twitter