'Minnie's Happy Helpers' on DVD
Category:
Blu-ray's and DVD's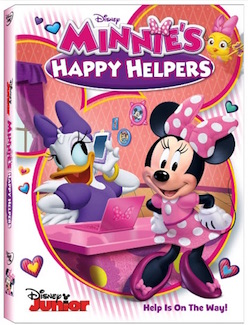 Minnie's Happy Helpers DVD includes seven episodes from the popular Disney Junior TV show Mickey and the Roadster Racers/Minnie's Happy Helpers. Mickey and Donald might be head of the Roadster Racers, but Minnie and Daisy are the best helpers with their business helping anyone with a problem.
Always willing and ready to help anyone in need, Minnie and Daisy, along with Cuckoo-Loca, provide all kinds of assistance with their Happy Helper Van. And they always look stylish doing everything. With a quick spin in the Turn-Styler to get them into the right outfit, they head off to do whatever needs to be done, providing assistance wherever needed.
When Clara Cluck's egg is about to hatch and she needs to go out, Minnie, Daisy, and Pluto are there to egg-sit for the day. Unfortunately, the egg starts cracking so Minnie heads out with Cuckoo to find Clara for the "birth" of her chicks. While Minnie is out and about tracking down Clara, Daisy and Pluto have a difficult time trying to keep the chicks from hatching. They even try putting rubber bands around it! How inventive. But Mother Nature waits for no one.
And over in Hawaii, Minnie and Daisy need to help find the perfect birthday gift for Leilani to give to her Grandpa. But it's not easy. This man has several of everything. While they are trying to help Leilani, Mickey and Donald are setting up the party. At least they're trying to set it up.
And when they all go to London for tea at Buckingham Palace, they find themselves in quite a jam, no pun intended. Big Ben breaks at the same time Mickey and Donald must take lessons on how to be gentlemen. It's Minnie and Daisy to the rescue to fix the clock.
Minnie and Daisy prove that girls are just as handy to have around as boys. In many cases, even more so! And they always wear a smile.
The episodes included on this DVD are:
Egg-Xasperating!
Happy Hula Helpers!
Tea Time Trouble!
Happy Birthday Helpers!
Bed, Breakfast and Bungled!
Gone Fishin'!
The bonus episode is Teed Off!
Also included in the DVD box is magnetic chart to place on refrigerators with spaces to write chores. There are also magnetic stars for kids to add to their list when they have completed their tasks.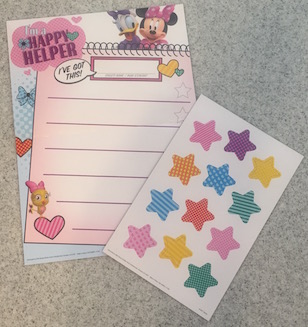 About the Author
Francine Brokaw has been covering all aspects of the entertainment industry for over 20 years. She also writes about products and travel. She has been published in national and international newspapers and magazines as well as Internet websites. She has written her own book, Beyond the Red Carpet The World of Entertainment Journalists, from Sourced Media Books.
Follow her on Twitter