Minions – Movie Review
Category:
Movies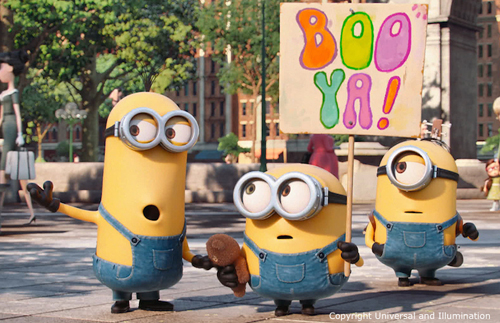 Audiences were introduced to the Minions in the 2010 film "Despicable Me", and they returned three years later to co-star in "Despicable Me 2". Now they star in their own feature film that details how the Minions came to be and how (the final scene) they joined Gru. "Minions" is a fun film filled with frolic and fracas.
Audiences will see how the Minions evolved and learn that their lives were meant to serve despicable villains. They are bumbling, klutzy little fellows that always seem to find themselves in the middle of mayhem. When their last master is unexpectedly and accidentally killed by you know who, they become morose without any purpose. Then one Minion named Kevin decides to do something about this.
Kevin tells everyone he is going out into the world in search of a new master to serve. Joined by rebellious Stuart (who loves to play his guitar) and little Bob, they venture out into the world. In New York they set up camp for a night in a department store. This is perhaps one of the most memorable scenes. Then they learn about a villain convention in Orlando and decide that is where they will find their new master.
They set their sights on Scarlet Overkill (voiced by Sandra Bullock). She has something special in mind for this trio of yellow followers. She wants them to steal the Queen of England's crown. So off they go to London.
Needless to say, in London all kinds of mischief and Minion fun occur as the three little guys go about their assignment leading to plenty of situations in which Kevin, Stuart, and Bob show off their unintentional comic abilities. Trying to impress super-villain Scarlet, they find themselves the center of attention of an entire country.
The movie takes place in the last part of the 1960s and the soundtrack reflects the decade with plenty of pop songs like "Happy Together", "Mellow Yellow", "You Really Got Me", "Revolution", and more.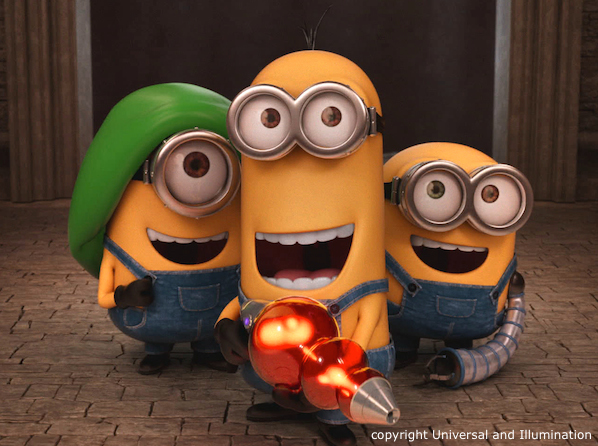 Some of the jokes will only be understood by adults, however there are plenty of antics kids will find entertaining. The Minions were fun in the "Despicable Me" films however they were joined by the trio of Edith, Agnes, and Margo who became audience favorites. On their own they are purely slapstick. There is no doubt though, that young audiences will enjoy Kevin and Stuart, and especially little Bob.
"Illumination movies are always about characters. And in the case of the Minion movie, just like every other film, we wanted to explore dimensional personalities and characters, which we have done with our lead Minions—Kevin, Stuart and Bob." said producer Chris Meledandri.
And writer Brian Lynch acknowledged, "As much as they slap each other around, they're also there for each other. Kevin is the big brother, and if he weren't around, the others would have ceased to exist long ago. Stuart is the rebellious teenager type. He doesn't care about the mission as much as he does about hanging out, playing his music and talking to girls. And Bob is the wide-eyed innocent who is so excited to help out but then gets distracted by a bright light or the TV or a teddy bear on the ground." Still, it wasn't all brotherly love. "You want them bickering. You want them having ideas that the others wouldn't, and you need them playing off each other."
After seeing the film, audiences will most likely envision a bunch of Minions in every bunch of bananas. Or, as they say, "baa naa nahhh."
"Minions" is rated PG for action and rude humor.
About the Author
Francine Brokaw has been covering all aspects of the entertainment business for over 20 years. She also writes about technology and has been a travel writer for the past 15 years. She has been published in national and international newspapers and magazines as well as Internet websites. She has written her own book,  Beyond the Red Carpet The World of Entertainment Journalists, from Sourced Media Books.
Follow her on Twitter
Like her on Facebook